Beautiful bathrooms on a budget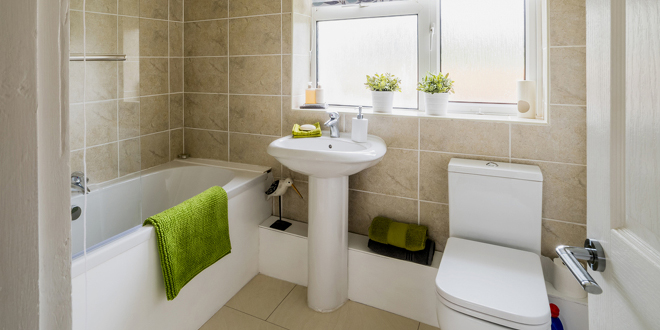 Big ideas, small budget? Don't despair it's easy to create a luxurious looking bathroom without spending a fortune.
If your bathroom is looking tired or old-fashioned, there is plenty you can do to bring it bang-up-to-date on a budget!
By simply using plain white sanitary ware as your starter, we've got lots of ideas to help you to create that elegant and up-market look all without breaking the bank, but still giving you the wow factor!
If you already have a white bathroom suite, there's absolutely no reason to replace it. If you haven't, and can budget for one then, it will give you a great base from which to begin your bathroom makeover.
Replacing the taps on your bath and basin with quality fittings will instantly give your suite that much-needed lift – the choices are endless from Art Deco or old brass to chrome or brushed steel.
A radiator that doubles as a towel rail will save you buying the items separately.
A cheaper option would be to attach a towel holder above your existing radiator or lean a towel ladder against the wall. If you're fond of the shabby chic look and have the room, a step ladder with towels stacked neatly on the rungs, is a fun way to display them.
Instead of pricey stone or marble wall or floor tiles, find a look-alike ceramic or porcelain one widely available from good tile shops, which are attractive, stain-resistant, light and therefore easy to lay.
When putting in new tiles save by only covering specific areas; perhaps up to half height around the room, or else just the splash backs next to the bath and basin. Use paint everywhere else.
If you can't afford to replace your current flooring – a washable rug will give an instant luxurious lift. Invest in some good quality towels to match and these can be changed with your rug to reflect the seasons.
Although a fully-mirrored wall might not be in your budget, it will give a sense of light to your bathroom. Otherwise, look for mirrors to fit with your theme and place them above the basin and the bath.
Instead of installing a blind or having your windows sandblasted, ensure your privacy cheaply and quickly by using glass etching spray or stick-on film which these days comes in a wide range of patterns.
Finally, to make the room truly original, go for storage that suits your style. Custom built, fitted storage can be expensive so choose standard-sized off-the-peg units or combine a simple set of shelves with free-standing storage such as trolleys, chests, cupboards or baskets. If you scour auctions, car boots sales and antique and collectable stores you may grab not only a bargain but also add a fashionably vintage vibe and heaps of personality.
[box type="shadow" align="" class="" width="600″]
Do you DIY or get someone in?
If you do some of the work yourself it will save money but know your limitations. Tiling and painting are straightforward and even some plastering and flooring can be tackled by a competent DIY-er.
If necessary top up your skills by buying a good book, checking out online tutorials or signing up for an evening class. If in doubt, however, call someone in.
Remember, that there are strict safety regulations controlling what work may be carried out by a non-professional, for instance with electrical work. Check with your local building control officer if you need more details.
Fitting a new shower? Know your water supply system and make sure you choose a shower that will work with it. If your water pressure is low, for example, you'll need to choose a type that can cope with this.
Otherwise, you'll have to install a pump as well. Fit a water-saving shower head at the same time, and you will save money and help the environment every time you use it. To avoid the labour cost of removing old tiles and re-plastering the wall, it is often possible to tile over the existing tiles. This is a win-win on both time and money for your bathroom transformation![/box]
By Nikki Relffe-Arnold