It's Back – Horley's St George's Day Celebrations!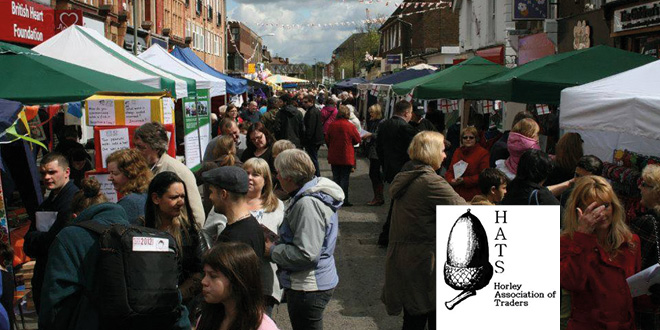 Ever since 2012, St George's Day has seen Horley residents of all ages get together and enjoy a feel good day out and we're pleased to hear that the event is back for its fourth consecutive year!
The patriotic community celebrations are organised by Horley Association of Traders (HATs), who hope to include all residents in their day of live entertainment, High Street stalls and of course – that infamous re-enactment battle between George and the dragon at midday. All money raised from the event goes to the Christmas light fund.
"St George's Day celebrations in Horley are a long-standing tradition," a spokesperson for HATs says. "It is a brilliant community-driven event. Horley comes alive on St George's Day!"
This year's event will take place on Saturday 23rd April between 12.00pm-5.00pm and will see the High Street become an exciting hub of activity; with stalls from over thirty local sellers and
organisations, children's fun fair rides, face painting, a tombola and music from InChoir, along with so much more!
Of course, without the work of HATs and other community groups and members, the event just wouldn't exist, so who should we be thanking this year?
"County Care does huge amounts of work on the day and in the build-up," the spokesperson continues. "Along with representatives from Horley Young People's Centre, The Guides, Town Council, Local Conservative Association, local schools and local residents such as Dennis Allenby who puts up the bunting in the High Street, Chris White who gives his delicious sausages and burgers free of charge to the volunteers, Kim and Jason Hewett, James and Caroline Baker and Steve from Horley Guitars who organises the live bands…"
It seems St George's Day really is a community affair, with everyone mucking in to make it a success!
"This is the biggest date in Horley's calendar and should not be missed," local butcher, Chris White, told us. "Horley's St George's Day celebrations are so much fun and we can't wait to see everyone there. The battle re-enactment will be a must see event, St George has a trick up his sleeve this year and all will be revealed on the day…"
We can't wait! Grab those buntings and start waving those flags with pride. We'll see you there!
To find out more about HATs and their St George's Day event, visit: www.facebook.com/HorleyAssociationOfTraders
or email: horleyassociationoftraders@outlook.com.
By Shelley Baker