How To Add Kerb Appeal To Your House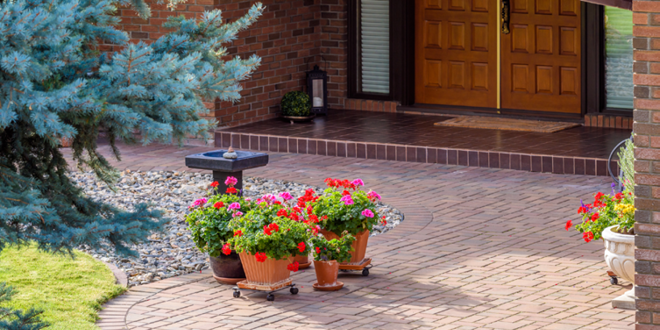 First impressions count – you might be surprised to learn that it only takes a quick spruce up at the front of your house to add some serious kerb appeal.
According to property experts, it takes on average no more than eight seconds for potential buyers to decide whether or not they like a house. Whether you are selling or not, a tidy entrance, neat drive and rubbish-free front garden all help to make a good and welcoming first impression.
It is estimated that an attractive garden can add thousands to the selling price, while a neglected plot can knock money off.  Make sure your front garden entices potential buyers and general visitors through the front door, rather than send them heading in the opposite direction.
Opening Doors
A lick of paint can work wonders for your street cred. Strip off blistered and cracked paint and fill any cracks! A strong colour on the front door makes a real statement – current favourites include matt finishes in dark grey and dark aubergine.
Let There Be Light!
Front doors need light, for safety and for practical reasons – security lights activated as you approach are available in a variety of styles. Other lighting options include lanterns or a single statement light which can be fitted to a porch.
Make Sure It Is No Façade
A tidy façade is a welcoming one so repaint, re-point and render over ugly brickwork where necessary. Colours should be in keeping with the period of the house and other houses on the street – if you live in a conservation area keep this in mind!
Your Window On The World
If your windows are dirty that can scream that your property is uncared for, so ensure they are kept clean. Rotten window frames should be replaced in a design that suits the rest of the house – if painted make sure the colour complements the brick or stonework.
Driveway To Hell?
It might appear to be simple advice but remove rubbish, sweep up leaves and tidy trees and border hedges. Touch up paths and the driveways where needed by cementing loose tiles and slabs and remove any weeds between slabs.
Your Number Is Up!
Again, simple but effective! Always make sure that your house number is clear – whether on the door, on a plaque, on a wall or on the garden gate your house number should be clearly visible for visitors from the roadside.
Front Garden Accessories
A house is ultimately a home and as a result there will be items constantly outdoors but some simple tricks make a world of different! Hide bins and recycling boxes neatly behind screens and
pile fire wood in purpose-built log stores.
By Jacob White