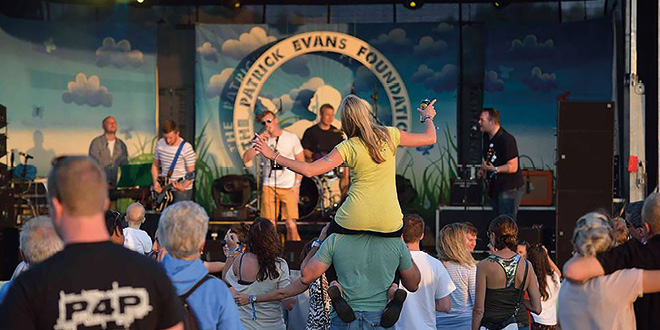 Carpe Diem was twenty-one year old Patrick Evans' motto. Sadly, after a skiing accident, Patrick's life was tragically cut short, however – using his favourite inspirational quote, his family and friends have been hoping to seize the day ever since, setting up a foundation in his name and holding events such as Party 4 Patrick – taking place for the seventh consecutive year on Sat 29th and Sun 30th August at Littleton Manor Farm, Reigate.
"Patrick was positive, fun, welcoming and always looked out for his friends and family," Patrick's sister and charity trustee, Louise Evans, says. "We make sure that this is the ethos behind our festival, even as we continue to grow from the 30ish people who joined us in 2009 to over 1,000 people who visited our festival last August."
"It really is fantastic how many people give up their time and energy to help make P4P a success. We continue to be overwhelmed by the local love and support every year, which help us to create something beautiful out of tragedy and make a difference across a variety of life-changing projects."
So, what can we expect to see at this year's fundraising party?
"Our festival has live music Saturday afternoon and all day Sunday with camping in the beautiful Surrey surroundings. We now have Patrick's Cocktail Club with a lovely big beer garden, a BBQ, plenty of picnic space and a children's entertainment area featuring a bouncy castle and an inflatable slide. There is also Tea4P selling tea and cakes, and a Craft Village featuring face-painting, alongside local arts and crafts from Reigate and Surrey."
"We have music across two stages and we pride ourselves on providing an eclectic mix of music, which have included Newton Faulkner, Shane Ritchie and Grace Savage, the UK's Number 1 female beatboxer! We also like to support local acts looking to build a name for themselves, as well as established local acts as part of our family festival," Louise adds.
Last year, the festival raised over £10,000 which is benefitting charities and organisations such as CRY, The Children's Trust and The Institute of Cancer Research. The Reigate-based charity also hopes to use donations to part-fund a research fellowship for sarcoma cancers at University College Hospital and also working with Old Reigatian Rugby Football Club to provide funding for coaching opportunities at two local schools, to encourage more young people to take up sport.
"It has something for everyone – music, tea and cake, camping, cocktails, shopping, snoozing, Frisbee-space, BBQ food, space for picnics and entertainment for little ones. We want P4P to be inclusive, welcoming, tons of fun and friendly just like my brother was. It is the perfect opportunity to relax in the countryside with family and friends and have some fun, so Carpe diem and see you later this month!"
The festival relies on volunteers to run smoothly, so the team have introduced a Volunteer Ticket, where in return for 6 hours of volunteering at P4P2015, you will have the value of your ticket refunded.
Buy tickets or find out more, by visiting: www.patrickevansfoundation.co.uk/p4p or emailing: info@patrickevansfoundation.com.