10 Questions to ask your Estate Agent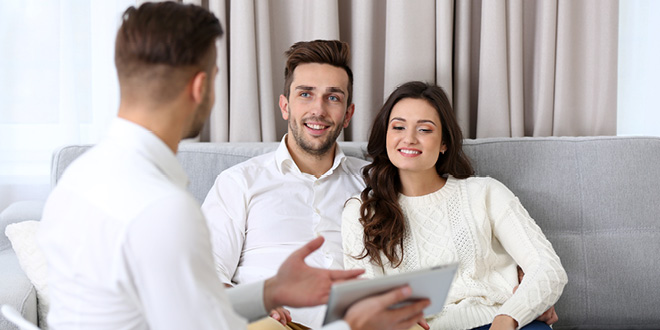 Viewing a property can be a very daunting prospect! Picture it; you're in someone else's house, with a total stranger whose job it is to convince you to buy probably one of the most expensive things you'll ever own. 
Making a decision about a property is not something to take lightly, don't let your manners get the better of you – ask questions about your potential dream home! Here is our guide to the 10 questions you should be asking your estate agent:
1. Why are they selling?
It might sound simple but can be forgotten! The seller may be moving because there's something wrong with the property, for example, noisy neighbours.
Listen for clues about whether their reason for moving might have a positive effect on any offer you may make. A homeowner wanting a quick sale to move abroad may accept a lower offer than one moving to the other side of town!
2. How long has the property been marketed and how many viewings have there been?
If it's only just come onto the market and there have been lots of viewings, this could signal a problem when it comes to negotiating a discount on the price – the more people looking the more likely a bidding war will ensue! If it's been a while, ask the agent's opinion about the possible reasons why. Is the asking price too high or could there be other reasons why it hasn't sold?
Do your research before viewing – www.rightmove.co.uk is always a good place to start where you can find out asking prices for similar houses in the area and also a historical record of sale prices.
3. How low will they go?
If the seller is up for negotiation, don't be afraid to ask just how low an offer the seller will accept. You never know you might save yourself thousands!
4. When did the owner buy the property?
If the property has been bought and sold fairly frequently, this could indicate there may be an issue.
If however it has been owned by the same person for a long time, pay particular attention to the results of any survey carried out for any issues which have gone unnoticed by the owner.
5. Neighbours
Of course you'll want to know who your new neighbours are going to be, introduce yourself and ask about the area. By using police.uk you will be able to check crime reports against the postcode.
6. Is there a chain and how long is it?
In an ideal world, you want a short chain – there's less chance of someone pulling out, which can make the chain collapse. That's not to say that longer chains don't ever work out, but if you enter into a long chain do so with your eyes wide open!
7. What goods are included in the sale?
What's included in the price? If there's something specific to the property that you'll struggle to replace when you move in ask if they can be included.
8. Council Tax
Ask the agent which band the property is in, if they're unsure, enter the property's postcode into gov.uk/council-tax-bands to find out.
9. Have any renovations been done?
How did this change the property and who worked on it – professional builders or DIY-ers? Did they have planning permission? For more information on planning permission, visit planningportal.gov.uk
10. How old is the boiler, and when was it last serviced?
When was the boiler installed? When was the last time it was serviced and is there a warranty? Ask the estate agent to pop the heating on taking note of how quickly the property warms up.