The volunteers making Sussex safer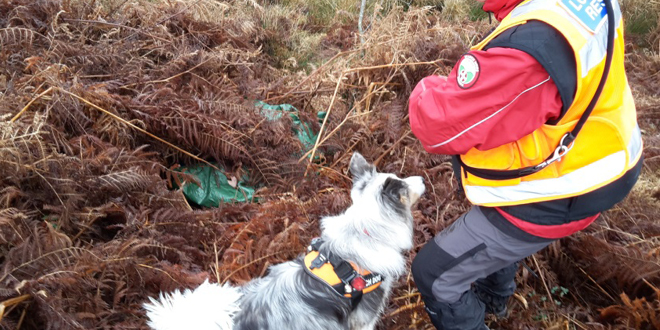 Search Dogs Sussex is a voluntary organisation founded in March 2003 in response to the disappearance of Sarah Payne in Pulborough, West Sussex.
They are a nationally qualified search and rescue dog team, and they support the police and emergency services when locating vulnerable, missing people around Sussex.
The team is on call 24 hours a day, 365 days a year, come rain or shine and their hard work and commitment paid off when the organisation received the highest honour of being rewarded with the Queen's Award for Voluntary Services.
Search Dogs Sussex are members of the Association of Lowland Search and Rescue organisation who are the UK governing body, in charge of assessing each handler and their dog.
As mentioned previously, the team is made up entirely of dog-loving volunteers who, together with their dogs, undergo constant training and must meet rigorous standards in order to obtain operational status.
They are required to attend a two day basic search technician course, qualify as a first aider, undergo water safety classes, fitness tests and get their Bronze Navigation certificate.
From this level of training, members of the team are able to progress to become operational dog handlers. Recently the team took part in a night exercise with the Hazardous Area Response Team.
The specialised paramedics provide medical care to patients in the 'hot zone' of hazardous environments like flooding or collapsed buildings. This was a great experience for Search Dog Sussex and the dogs proved vital in finding and rescuing the patient.
Regardless of breed, dogs have many desirable attributes that make them perfect search and rescue companions. A dog's brain is specialised for identifying scents and they rely on their noses to interpret the world around them.
Alongside this, they have physical endurance which makes it easy for them to tackle tough terrain and have a heightened sense of sight especially in the dark, which makes them an excellent search tool for the team.
These furry friends undergo training with their owner every weekend to nurture the skills they have learnt. Initial training usually takes eighteen months or longer.
Many members of the team have got every day jobs but volunteering their time with Search Dogs Sussex is another very rewarding job and they train hard to stay as professional as possible.
'When we find the missing person, we know we are helping the families, regardless of whether it is a good or a bad outcome' expressed Steve Woods, a member of the team.
To raise awareness of the charity, they attend events like Paws in the Park, 999 emergency service days and they hold talks for organisations to raise money for the team. All funds raised go towards essential equipment such as canine first aid kits, radios and hi-visibility clothing.
Search Dogs Sussex are always looking for volunteers to help in training sessions as well as providing support for the dog handlers.
[box type="shadow" align="" class="" width="600″]
Storage 4 ALSAR Search Dogs Sussex
This funding will enable to the team to purchase a shipping container and transport it to its new home, giving us secure storage for all our equipment.
Search Dogs Sussex is a voluntary organisation founded in 2003. We are a group of ordinary people, with everyday jobs, but combine our love of the outdoors and working with dogs, with a desire to help others that are vulnerable.
We provide nationally qualified search dog teams to support the emergency services when looking for vulnerable missing people. 24 hours a day, 365 days a year, come rain or shine.
https://www.gofundme.com/2b27ccvp
[/box]
If you feel like this could be the right volunteering opportunity for you, please visit their website for more details. If you would like to help save lives and give to a worthwhile cause, please donate:
http://searchdogssussex.com/
By Georgia Lambert