This summer marks the 20th anniversary of two news events which shook Britain and one Sussex resident, Tom Gilling was part of the teams that brought those historic events to our TV screens – this month, RH History Uncovered looks back to 20 years ago to the summer of 1997.
Summer 1997 saw Britain gripped by Cool Britannia, the Spice Girls enjoying chart success, the Teletubbies the biggest show on children's TV and the UK winning the Eurovision Song Contest.
However, the summer was book-ended by stories brought to our screens by Sussex resident Tom Gilling who that summer was working as a freelance TV graphic designer for GMTV.
After leaving Art College in 1979 Tom worked as an assistant at Thames TV in Teddington, working alongside designers of productions such as The World at War and The Morecambe and Wise Show.
His role was to design the opening title sequences to TV programmes, associated content graphics, and any related promotional print material needed.
GMTV's was a live programme going on air at 6.00am, night shifts were routine for Tom and he was in the position that he might need to commission graphics in the case of a breaking news event.
In 1997, he was at the frontline, he said: "On the night of May 1 I was sitting at GMTV alongside team members this time preparing graphics for a long awaited news story – the General Election.'
"Everyone knew the event could herald a new era but the scale of Tony Blair's victory over the Conservative party, ending Labour's 18 years in opposition took everyone by surprise."
The contrast of the news event Tom would be working on just four months later could not have been more different from General Election, to the death of Princess Diana in Paris.
Tom said: "I was one of two people scheduled to work overnight on Saturday, August 30, I was the designer and my colleague was the play-out operator and there was just one journalist.'
"Between 1.00am and 2.00am a journalist picked up on her computer a story from the newswires that Princess Diana had been involved in car accident in Paris. Information was scant."
As is customary in the newsroom there was a collection of picture templates and backgrounds sensitively designed for the news of the death of a senior member of the Royal Family.
Tom says that at that time, GMTV would have had one set up for Her Majesty the Queen as well as one for the Queen Mother but not images and text for Princess Diana in the system.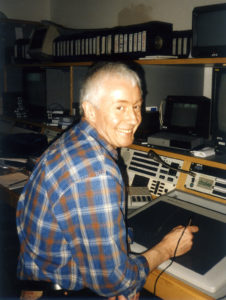 Tom in 1997
Tom in 2017
Though GMTV had regular news bulletins, the show's output was a tabloid magazine-style and not best known for serious news reporting but on this day presenter Fiona Phillips came into her own.
Tom said: "This sad day was to be the making of Fiona Phillips. She had just returned from America where she had been GMTV's Los Angeles correspondent.'
"In the early hours she was called to present a live programme where the details of the story were still unfolding, there was uncertainty as to who might be available for interview'
"I watched the programme go out and thought she was the consummate professional, handling the discussion with guests sensitively and confidently."
In the following days Tom worked at ITN, working on amongst other things explanatory graphics related to the preparations for Diana's funeral.
By Jacob White