Sensational Outdoor Pursuits For Summer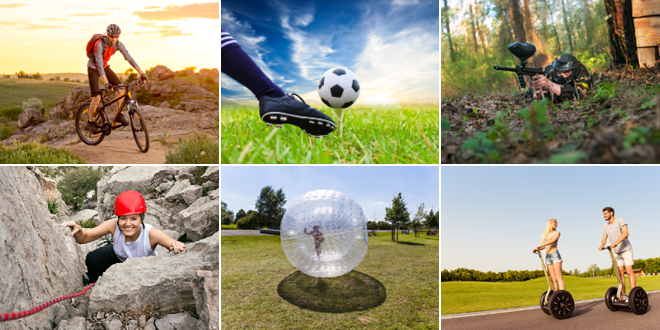 With summer just around the corner, we've got six sensational outdoor pursuits for you to enjoy as the days get longer, warmer and sunnier! Let's get outdoors and make summer 2017 sensational!
Segway
The two-wheeled, self-balancing craze shows no sign of relenting. Whether it's for sightseeing whilst visiting your favourite city and letting the wheels take the strain; a fast, fun and challenging off-road adventure ride or as some police forces across the globe have discovered, used as a way of fighting crime on busy streets, Segway is here to stay.
If you want to take on the off-road adventure sessions, they usually last around 45 minutes and allow you the chance to test yourself against different riding zones.
If you've got a competitive streak, it's a very good idea for team building with work colleagues or a high-octane stag or hen weekend event.
Footgolf
Love football? Love golf? Maybe you love both? If so, what better way to combine the two than footgolf? There is already a growing community of golfers and footballers who have discovered it!
Special courses are available where you'll have a ball but there are no clubs required! You will be able to experience an eighteen hole course much like a regular golf course that caters for both beginners and experienced players what makes it fun is that it is open to boys or girls and players of all ages. So, get ready to merge the two great sports for a morning or afternoon of fun!
Rock Climbing
Looking for an uphill challenge? What greater one is there than scaling a rocky crag? With the correct equipment, this pursuit can be huge fun whether going solo or as part of a group.
As well as fun it offers great health benefits with cardiovascular and hand-eye co-ordination – the options are vast so whether you have a head-for-heights or not, you'll find something.
Paintball
A favourite outdoor pursuit which dates back to the 1980s – the dye-filled attack and capture strategy game is as popular as ever. What better way to let your competitive streak rise to the surface than to 'fight' over territory?!
The game is great fun for working out strategy and for character building. With the right safety equipment, you can have fun whilst taking aim at friends or family!
Mountain Biking
Sussex and Surrey might not offer you any mountains but can provide you with some brilliant dirt tracks, and they're a wonderful way to get fit and get at one with nature.
Cycling to work is one thing, but the challenge of going off-road is something altogether different, challenging yourself against all sorts of undulating terrain on your own or in a group.
Roll into one…
If you've got the thirst for taking on an outdoor pursuit but you're not sure which one why not go to an adventure centre where you can usually take a sample taster of all or some of the activities
on offer out there for you this summer! There are many out there with great packages for groups.