Sajeela Kershi: An Asian Woman of Achievement Award Winner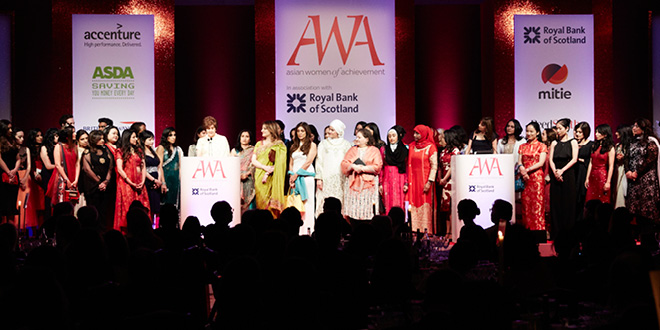 2015 was a remarkable year for Reigate writer and comedian, Sajeela Kershi, who not only bought her show Immigrant Diaries to London, performed at the Brighton Fringe Festival and continued her fundraising comedy nights at the award-winning Comedy Cottage in Redhill, but also received a prestigious Asian Woman of Achievement Award, for Arts and Culture too.
We caught up with Reigate's funniest resident to talk addressing negativity, inspirational women and why we all need a yearly to-do list…
Congratulations on your Asian Women of Achievement Award! Can you tell us a little about it?
It's a wonderful award set up by a truly inspiring lady (Pinky Lilani OBE) which celebrates the unsung heroines of British society. Even though I'm in a very show-offy industry, I'm actually rubbish at showing off and am quite shy. The AWA award has given me such a boost; that anyone even noticed what I was attempting to do, let alone give me an award for it! I'd like to think we're making a positive difference to the community with the club (Comedy Cottage) and with my shows (Immigrant Diaries and Shallow Halal) which are, I believe, in part why I won.
I've never understood bigotry, and my entire body of creative work deals with trying to bridge gaps and greater understanding. I HATE any kind of injustice. My show Immigrant Diaries addresses the negativity around immigrants/refugees and my recent solo stand-up tackles religion. It's an inclusive show that looks at the attitudes of those with faith, the faithless and those sitting on the fence like me.
[tie_slideshow] [tie_slide]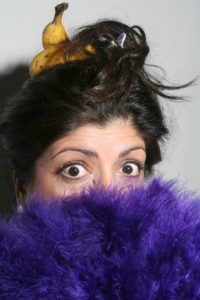 [/tie_slide] [tie_slide]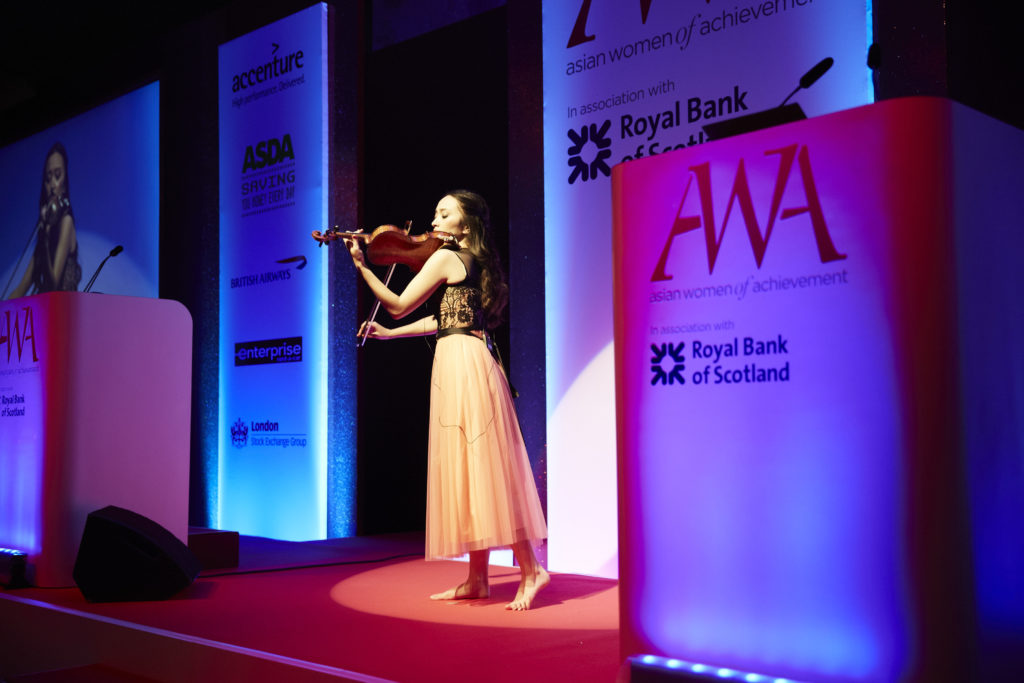 [/tie_slide] [tie_slide]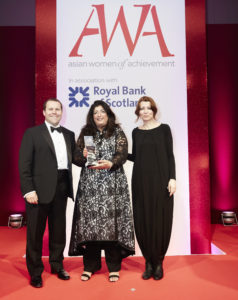 [/tie_slide] [/tie_slideshow]
Why did you start to run your own comedy night at the Comedy Cottage in Redhill?
The Comedy Cottage was meant to be a one off night in 2007, to raise funds for War Child – a charity that supports kids caught in the middle of conflict. It went well, so we did another one and then another. It's built up by word of mouth and now here we are raising funds for different charities every show.
I'm always amazed by the generosity of our audience who bring in food items – it is a very unique club with community spirit. If you have
a social conscience, an open mind and LOVE comedy you should come down!
What does 2016 hold for you?
This year, I'm hoping to write a new show about the unsung heroines in our own families and in history, inspired by my late great aunt. I'm also performing a few dates of my shows too. Ideally, I would love to tour these shows so more people get to see them! I am trying to see if I can get the award-winning Immigrant Diaries made into either a radio or TV series and there is definitely a book to be written from it too…
And finally, do you have any words of wisdom or advice to inspire our readers to aim high for 2016?!
The most valuable lesson I've learnt is that health really is wealth: look after yourself. Life is too short to put off doing the things you really want, so write a list of things you would like to achieve in 2016 – this is not a New Year's resolution list, this is things you truly want. By putting it out there, you are creating new possibilities for yourself. It may not be 100% what you asked for but go with the flow, near enough means you made it happen!