Rhubarb and Strawberry Crumble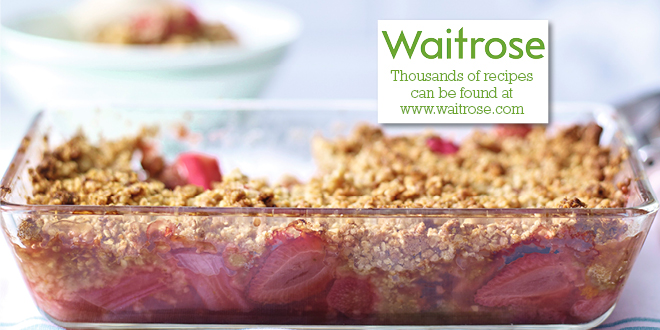 This cold-weather pudding has been transformed into a sunshine treat with these sweet, fruity summer flavours. 
Preparation time:15 minutes
Cooking time: 45 minutes
Total time:1 hour
Serves: 6
Ingredients
400g Waitrose Cooks' Ingredients Forced Rhubarb, cut into 3cm lengths
400g essential Waitrose British Strawberries, hulled and halved
2 star anise
75g Waitrose Light Brown Soft Sugar
Grated zest and juice of 1 large orange
For the topping:
150g porridge oats
100g plain flour
100g chilled butter, diced
2 tbsp clear honey
100g Waitrose Light Brown Soft Sugar
50g Waitrose Roasted Chopped Hazelnuts
Method
 Preheat the oven to 180ºC, gas mark 4. Place the rhubarb, strawberries, star anise, sugar, orange zest and juice in a large ovenproof dish.
 Place the oats, flour and butter in a bowl then, using your fingertips, rub in the butter until it resembles breadcrumbs. Add the honey, sugar and hazelnuts then rub together to form small clumps.
Scatter the oaty crumble over the fruit. Sit the dish on a baking sheet in the oven and cook for 45 minutes until the fruit is tender, bubbling around the edges and the top is crunchy and golden brown.