The Real Dad's Army: Memories of the Home Guard
On the evening of May 14, 1940, the Secretary of State for War, Anthony Eden announced the formation of the Local Defence Volunteers (LDV) who would become better known as the Home Guard. Raymond Neave of Sussex, then aged 15 was one of those who answered Eden's call – this month, RH History Uncovered looks back.
Since September 1939, Britain had been at war, with Sussex at the frontline of UK defences, the threat of invasion had been a real fear for many Britons as war raged across Europe.
Operation Sea Lion, a Nazi invasion plan had identified several parts of the Sussex coastline as vulnerable points to breach British defences including Camber Sands and Bexhill-on-Sea.
The Home Guard would act as a defence force in the event of an invasion. The organisation, a wing of the army, was composed of more than a million volunteers who were otherwise ineligible.
Men between 17 and 65 were expected to sign-up if they were not in military service and included those who worked in reserved occupations, too young, or too old – hence Dad's Army.
Despite not being old enough to join officially, Raymond Neave at just 15 enrolled in his local Home Guard – D Company 20th Battalion, Royal Sussex Regiment based at Heathfield Park in East Sussex.
The Home Guard grew – the Heathfield membership swelled to more than 100 members by 1943, the younger men joined the Army Cadets meaning that the Home Guard could focus on older men.
Talking about his memories, Raymond who is 90 next month said: "I was too young to think too much about the consequences at the time – thinking back it is sobering to think what could have been."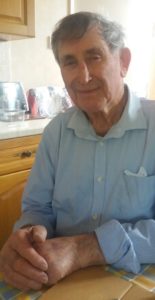 Heathfield was smaller than it is today, members knew each other through school, work or socially; this helped to ease the burden of war and brought a sense of camaraderie among the Home Guard.
Raymond said: "My older brothers had gone off to war to fight – it was a worrying time for my mother. I was proud to be part of the Home Guard and do my bit for the war effort.'
"Home Guard life was not like the sitcom Dad's Army, but if you're looking for a comparison, our 'Captain Mainwaring' was Mr Wheale, who was a shoe repairer – everyone did their bit."
The Home Guard stood down in 1944 before formally being disbanded in 1945. Raymond would go on to complete his National Service from the summer of 1945 as the war came to a conclusion in Europe.
By Jacob White