Profiling The Work And Support of Haywards Heath Prostate Cancer Group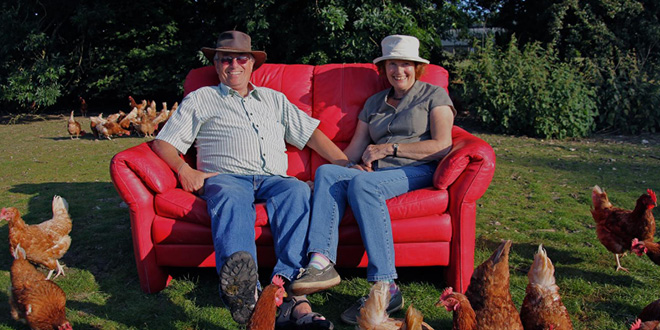 In a town the size of Haywards Heath, it's amazing how some people work incredibly hard to make a difference.
The Haywards Heath and District Prostate Cancer Support Group was founded in 2011 by Jenny Stanger who's husband was a patient at Princess Royal Hospital with Prostate cancer.
Current Chairman, Peter Barton (pictured with his wife) told RH Uncovered."She like many wives and partners play a major role in the work of Prostate Cancer Care in the UK and we are immensely proud of the work our ladies do often saying things that men folk find difficult to talk about.
"Prostate Cancer is after all a male disease with real impact on women.
The aim of the group is to work within the community and offer physical and emotional support to people at a critical stage in their lives.
"While we do not give medical advice we can put sufferers in touch with fellow journeymen who can share experiences," Peter added.
The group has between 50-60 attend our meetings which are held every four months at The Dolphin Health Centre. The group have a range of speakers including oncologists, surgeons and scientists who share their expertise.
Peter told us: "The best part of chairing this group is being able to spent time either in person or on the phone sharing the pain of fellow sufferers.
"I was diagnosed eight years ago and underwent Robotic Assisted Prostatectomy at The Royal Marsden which has given me remission but not without side effects which are sadly common in all current treatments available.
"Sadly we do lose colleagues quite regularly to this awful disease and personally I recommend that all men over 50 at least have a PSA test if only to use as a marker. The test is very simple but can give both false negatives and positives however until new test become available its the best we have.
"My own sons are sadly at greater risk and have had their tests done in their 40s."
The group have a website www.haywardsheathprostate.org.uk/ and can be contacted at any time.
Peter added: "We warmly welcome new members and calls from people concerned about prostate cancer"