Paralympic Champion Shares The Secret Of Her Success In Sussex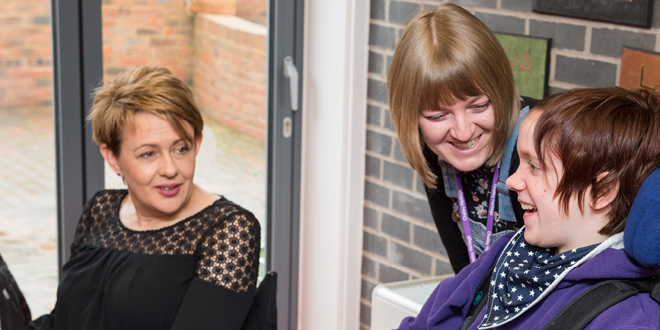 Former Paralympian, broadcaster and House of Lords Peer, Baroness Tanni Grey-Thompson shared the secret of her success with the children and young people at Chailey Heritage on a recent visit.
Chailey Heritage is a Sussex-based charity, recognised as a leading UK centre for children and young adults with neurological motor impairment such as cerebral palsy. It has a reputation for supporting young people's communication and developing their independence. Its aim is to provide a stimulating and inclusive environment where all young people are given opportunities to make progress towards fulfilment and develop life skills in preparation for adulthood.
Baroness Tanni Grey-Thompson played table cricket with students, watched a session of wheelchair dancing and held a question and answer session. She was interested to hear about the charity's plans for its new D.R.E.A.M. (dynamic, real, experiential, amazing, magical) Centre. The Centre will be built on Chailey Heritage's existing site, replacing an old hall. It will be a modern, purpose built space for a mixture of physical activities and arts.
Having raised £1.8million so far, the charity is now looking to raise the final £800,000. Many people have joined the challenge by donating, sponsoring, and fundraising for this fantastic project, for example, on Good Friday the Haywards Heath Lions organised a Swimathon, and others have got involved by successfully completing physical challenges like the Steyning Stinger, The Brighton 10K Marathon and the Moyleman Marathon, all in aid of the charity.
Baroness Tanni Grey-Thompson, said: "I think the big thing for me that the visit has highlighted is what the children and young people can do with individualised support. When someone has complex needs that individual support is massive – whether it's teaching someone to move a finger, driving a wheelchair or being more independent. It's been really inspirational."
Helen Hewitt, Chief Executive of Chailey Heritage Foundation, said: "It was a privilege to have Baroness Grey-Thompson visit us at Chailey Heritage. Such an inspirational woman sharing her experiences with the children and young adults."
For more information about how you can support the D.R.E.A.M. Centre appeal, contact Sally-Anne Murray, Development Director. Call: 01825 724752 or, visit: www.chf.org.uk/dreamcentre
By Georgia Lambert