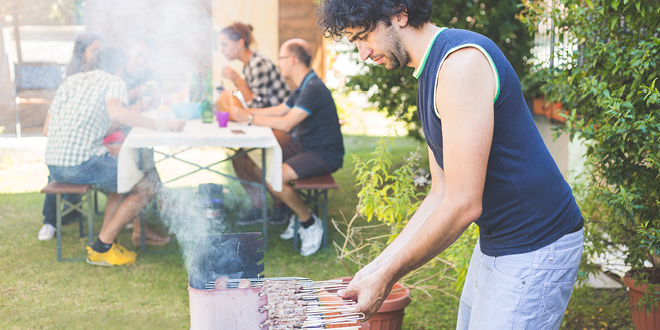 Between May 30 and June 5 it's National BBQ Week, so there's never been a better time to grab the grill and enjoy the Great British summer al fresco style!
Now in its 20th year, organisers of the week hope to encourage us all to celebrate the warmer, drier days (let's hope they are!) and lighter evenings with great food and drink. While most people stick to chicken, burgers and sausages, this is the time to be experimental…
Seafood is great on the barbie wrapped in foils and covered with herbs and lemon juice to make them extra delicious. If you do stick with the usual meats you can always marinate them.
Of course vegetarians are not excluded from the summer foodie fun with tasty baked potatoes to gorgeous vegetable kebabs. Summer food is all about fresh flavours.
Don't forget the dessert options too… You can't go wrong with barbecued pineapple or bananas with a huge dollop of ice cream!
Once the food is sorted remember there's a perfect drink to complement every dish: a taste of Spanish holidays with a jug of sangria or traditional English Pimms and some non-alcoholic tropical drinks should do the trick.
All you need now is to plan a get-together, grab some friends and finally the most important aspect – the sun (in Britain of course this cannot be guaranteed but a barbecue is always guaranteed fun!).
Barbecues are a great way to spend your summer leisure time but they have their own set of risks It's all too easy to be distracted but some common sense preparation can ensure you have a safe
and enjoyable experience. To avoid injuries or damage to property, follow these simple precautions:
General Safety:
Make sure your barbecue is in good working order
Ensure the barbecue is on a flat surface, well away from a shed, trees or shrubs
Keep children, garden games and pets well away from the cooking area
Never leave the barbecue unattended
Keep a bucket of water or sand nearby for emergencies
Ensure the barbecue is cool before attempting to move it
For more information on National BBQ Week, see: nationalbbqweek.co.uk, facebook.com/NationalBBQWeek, twitter.com/nationalbbqweek using the hashtag #NatBBQWeek
[box type="shadow" align="" class="" width="800″] [one_half]
Charcoal Barbecues:
Use only enough charcoal to cover the base to a depth of about 50mm (2 inches)
Only use recognised fire lighters or starter fuel and only on cold coals – use the minimum necessary and never use petrol
Never put hot ashes straight into a dustbin or wheelie bin – they could melt the plastic and cause a fire
To safely extinguish the charcoal you must prevent oxygen from reaching it. Close the lid of the grill or smoker, as well as any vents or draft doors.[/one_half][one_half_last]Gas Barbecues:
Make sure the tap is turned off before changing the gas cylinder
Change cylinders outdoors if possible or in a well ventilated area
If you suspect a leak to the cylinder or pipe work, brush soapy water around the joints and watch for bubbles – tighten to fix but do not overtighten
After cooking, turn off the gas cylinder before turning off at the controls to ensure any residual gas in the pipe work is used up[/one_half_last][/box]