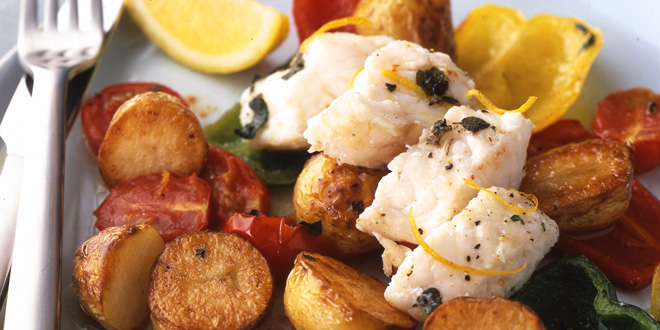 This is a great one-pan dish full of fresh flavour.  Monkfish is quite pricey but the meaty flesh is delicious and bakes really well, however you can replace it with cod loin, salmon steaks or thick pieces of haddock fillet if you prefer. Serve with a green salad and warmed ciabatta bread to mop up all the lovely herb and lemon flavoured pan juices.
Serves 4, Ready in 50 minutes
2 tbsp olive oil (choose a good quality fruity one)
350g small new potatoes, halved
1 red pepper, deseeded and cut into chunks
1 yellow pepper, deseeded and cut into chunks
1 green pepper, deseeded and cut into chunks
225g small plum tomatoes, halved
4 monkfish fillets (each weighing about 150g)
50g butter, softened
Pared rind and juice from 1 small lemon, plus extra wedges to serve
1 tbsp fresh chopped oregano
Salt and freshly ground black pepper
Preheat the oven to 200C/400F/Gas Mark 6. Place the oil in a large non-stick roasting tin and heat in the oven for 5 minutes. Add the potatoes to the tin and toss to coat in the hot oil. Roast for 20 minutes, turning once.
Add the peppers and tomatoes to the roasting tin and toss to coat in the hot oil. Make a space in the tin and add the monkfish fillets. Return the roasting tin to the oven for 10 minutes.
Dot the butter over the fish fillets and sprinkle over the lemon rind, juice and oregano. Season with salt and freshly ground black pepper and roast for a further 5-10 minutes until the fish is just cooked through and the potatoes and peppers are tender.
Slice each monkfish fillet and arrange with the potatoes, peppers and tomatoes on four warmed serving plates. Spoon over the pan juices and serve immediately with lemon wedges.
[box type="shadow" align="" class="" width="800″]Tip: Replace the peppers with sliced courgettes, chunks of celery and baby button mushrooms, if liked.[/box]