Listen up! Local children's charity to feature on BBC Radio 2
East Grinstead based family bereavement charity Jigsaw (South East) is to feature on BBC Radio 2's Chris Evans Breakfast Show this week
Tune in to BBC Radio 2 at around 7.30am, Thursday 27 August 2015
Traffic reporter Lynn Bowles and producer 'Golden' Graham Albans from BBC Radio 2's Chris Evans Breakfast Show recently came to meet and interview six young people about the support they received from Jigsaw (South East) (JSE) following the death of a loved one, and to learn more about how BBC Children in Need supports the project.
The interviews will be played out on BBC Radio 2 on Thursday 27 August.
BBC Children in Need provides essential funding support to Jigsaw, funding the project over three years to work with children and young people who have suffered a bereavement, providing support to allow them to deal with their grief and improve their emotional wellbeing.
Nickey Price, JSE's Operations Manager said:
"We were approached by BBC Children in Need who asked if some of the young people who had received grief support from Jigsaw would be willing to talk about their experiences on Chris Evans' show. We found six willing volunteers who all bravely spoke to the BBC team who came to visit us at our East-Grinstead headquarters.
"We are so grateful for the opportunity to show our appreciation to BBC Children in Need for their essential support over the years – which has allowed us to continue our work supporting children and young people who have lost a loved one – and those who are facing the loss of a close family member through serious illness."
Louise Wilson, Senior Editorial Producer for BBC Children in Need, said:
"It was a pleasure to meet the staff at Jigsaw and all the young people and their families. We were really grateful for the effort that went to in setting up the interviews, especially during the summer holidays.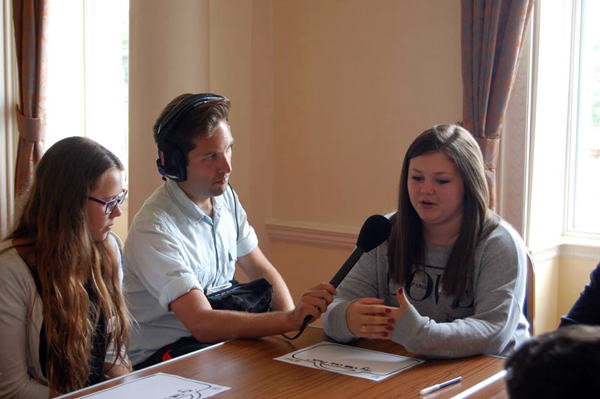 "The young people spoke confidently and articulately. They said some powerful things and it's clear what a positive impact Jigsaw has had on their lives."
Based at East Court Mansion in East Grinstead since 2006, the charity offers support to children and young people who have a family member with a serious, life-limiting condition. It also provides grief support to children and young people who have experienced the death of a significant family member through illness, accident, suicide or murder (through groups in Reigate and Guildford, Woking and East Grinstead).
Catch the interviews at around 7.30am on Thurs 27th August, BBC Radio 2. Follow us on Twitter or Facebook for photos and updates.
www.facebook.com/JigsawSouthEast
www.twitter.com/JigsawSouthEast