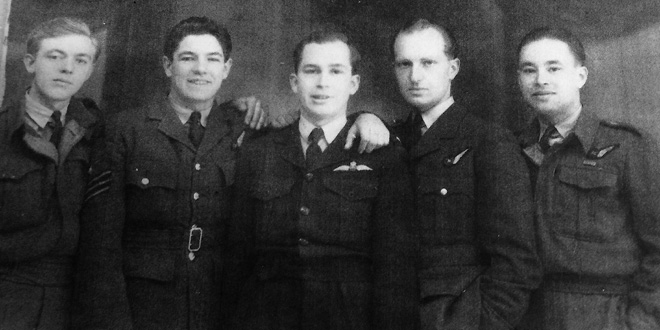 Haywards Heath resident, Harry Hacker, has recently received the Legion of Honour, Chavelier medal for his military services during the Second World War and wears it proudly with the rest of his medals.
Born in 1923 in Liverpool, Harry had a happy childhood, but as war clouds gathered he found himself working in an aircraft factory building Blenheim Bombers and at the Post Office Engineering Department.
Later, he joined a fire-watching unit and took on duties with the Local Defence Volunteers which later became the much celebrated 'Home Guard' during the 'Blitzkrieg attack by the German Luftwaffe.
They risked their lives by fighting any paratroopers to slow down possible invasions. The city was a blazing inferno; fires were raging everywhere under the rain of incendiary bombs and high explosives.
Upon reaching the age of eighteen, Harry successfully volunteered for aircrew duties and learnt to fly Tiger Moths and was posted to South Africa to complete his training with the Empire Air Training Scheme.
After his training in South Africa, Harry gained his 'wings' and was posted to the Middle East where he undertook operational training in Palestine, converting onto the infamous Wellington Bomber.
Soon he posted to the 40 Squadron, Mediterranean Allied Strategic Air Force, operating out of Italy. Harry and his crew left the Italian base to fly to Romania with the mission of bombing the county of Ploiesti.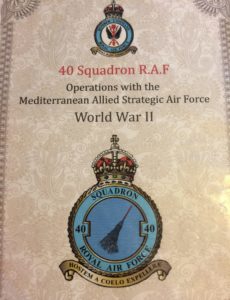 The RAF had designed a strategic plan to cut off Nazi Germany's main oil supply by bombing the oil refineries which provided Germany with 60% of natural oil.
This mission was extremely dangerous, and they were met by the Nazi's deadly defensive mechanisms. However, they managed to starve Germany of vital sources of raw materials.
Their second successful mission was to detonate mines underneath the River Danube, used to transport oil into Germany. Harry and his crew were among the 16 surviving officers after starting out as a group of 64.
Harry said: "You learn to live with fear, I lived amongst war for seven years and mentally you condition your mind to cope. I became a part of a determined team of fighters and you are only as weak as the strongest man, so we strived to do the job as well as we could and became great friends in the process."
A well-known, archetypical wartime pilot song sang regularly to respect the inevitability of death – "Lift up your glasses steady, here's to the dead already and here's to the next man to die!"
After experiencing the atrocities of war, Harry and his crew survived unharmed and Harry returned to Africa where he met his future wife, Patricia, in the WAAF and they fell in love.
The next 25 years were in Harry's words 'a boy's own adventure' – he moved to Kenya with his wife, and they set up a safari camp that became popular with royalty including Prince Michael and his family.
Harry never forgot about his time in the war, describing it as 'the biggest adventure of one's life' however, life was for living and settling down in Africa was going to be a different adventure peppered with its own danger but for the most part it allowed Harry to live a happy life with nature.
By Georgia Lambert