Join St Catherine's Hospice Midnight Walk this Christmas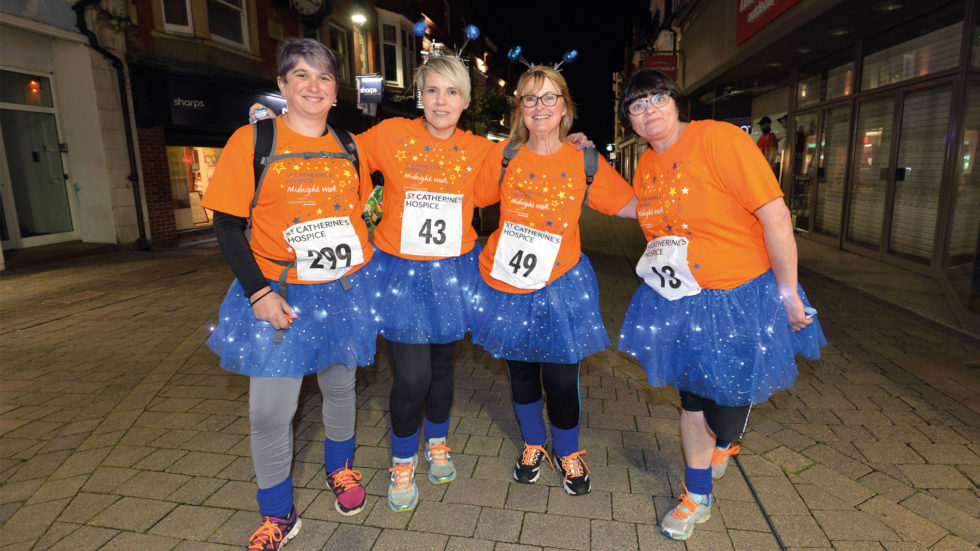 After postponing the original Midnight Walk in June, the local hospice is thrilled to announce the Midnight Walk is back!
Taking place on Saturday 12 December 2020 from 4 pm, this is your chance to do something amazing and help end the year on a positive note! Sign up today and show local families facing a terminal illness that they aren't alone.
St Catherine's is calling on people like you to get together with a small group
of friends and family and walk your own 2, 7, 13 or 20-mile Midnight Walk. While you do, you'll know that other hospice supporters are doing the same thing at the same time.
The local hospice will send you everything you need to take part and fundraise
safely, and on the night St Catherine's staff will set you off walking in style, with a special Facebook Live pre-walk celebration including entertainment, inspiration and a virtual warm up.
And every step you take will be special because you'll be remembering the people you love and supporting your local hospice. St Catherine's knows that for people walking in memory of someone they love Christmas time can feel especially poignant. To help bring everyone together, and to collectively honour all those people we love and miss, this year, the hospice has set up
a beautiful, virtual Memory Wall where walkers are encouraged to share a story, picture, or thought about someone they're walking for.
By taking part, you'll make sure that this Christmas:
St Catherine's friendly nurses can continue to make essential visits to people in their homes.
People caring for someone they love can pick up the phone, day or night, to the hospice's expert team and get vital advice and reassurance.
People staying at the hospice can continue to safely see their family over
the festive season.
Because nobody should feel alone, especially at Christmas.
By taking part in the Midnight Walk you can make sure more people in your community have something to look forward to, and someone to laugh with, this
Christmas. That's a priceless gift.
Will you walk, along with your community, to remember the people you love and to support St Catherine's?
Click here to sign up on the St Catherine's Hospice Website or call their friendly team on 01293 447355 today to register over the phone.