How to Make the Perfect Paella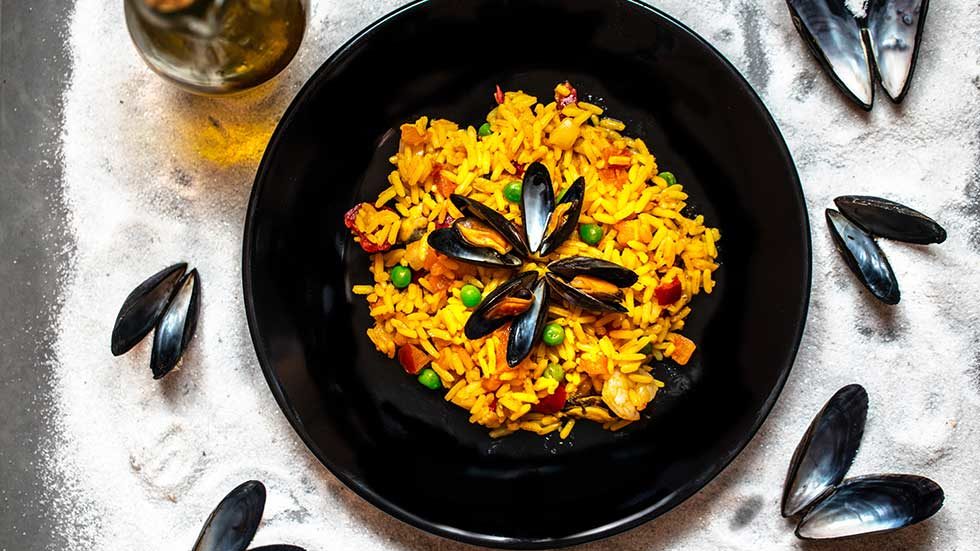 Enjoy the flavours of Spain with this classic rice dish. It makes a great one-pan supper served with crusty bread and a green salad. Here's how to make the perfect paella.
Heat the oil in a large deep frying pan over a medium heat. Add the chorizo to the pan and fry for 3-4 minutes. Remove from the pan with a slotted spoon and set aside.
Fry the onion in the pan juices for 5 minutes then stir in the rice and saffron and cook while stirring for 1 minute. Pour in the stock, season with salt and freshly ground black pepper and simmer for 20 minutes, stirring frequently.
Return the chorizo sausage to the pan and add the pepper, peas, paprika and prawns. Simmer gently for a further 10 minutes until the rice is nearly tender and all the liquid has been absorbed, stirring occasionally. Top with the mussels and cover and cook for a further 4-5 minutes until the mussels open (discard any that do not open). Adjust the seasoning to taste then you serve your perfect paella from the pan.
To make a vegetarian paella omit the chorizo, prawns and mussels and replace with a selection of vegetables of your choice, such as celery, green beans, chopped tomatoes and courgette. Use vegetable stock and fry a couple of crushed garlic cloves with the onion to give extra flavour.
For more RH Uncovered recipes click here
To learn about the history of Paella click here