'Hollow Dog' – It's never too late to change!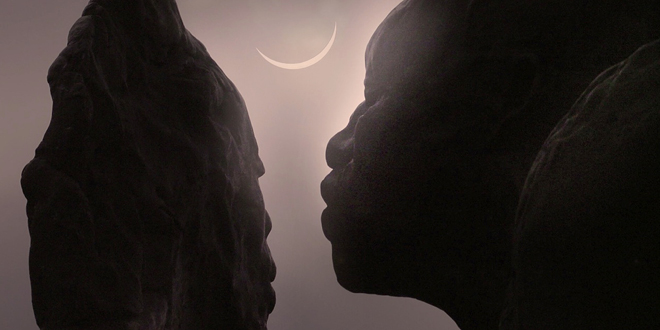 Sharpthorne based film maker, Clive Martin has recently completed a project on celebrated sculptor, Maurice Blik. The resulting documentary, Hollow Dog, was Premiered at the end of June at The Prince Charles Cinema in Leicester Square and will be submitted to The Raindance Festival this September and the Sundance Festival in January 2017.
The initial idea came about after Clive was asked to edit some film about ceramist, Bob Washington. Although at that time, Clive was working as a teacher at Ardingly College, he had studied and attained his first Degree in Film and Video. He suggested to Bob's wife, Sue, that due to the quality of the film clips, rather than just edit, he could produce a new short film. During the making of 'Out of the Tub', Clive visited some of Bob's work at Deborah Blik's gallery in Tiptree, Essex. Whilst here, Clive began chatting to a man in overalls he assumed to be the caretaker, who was standing outside. It turned out they shared something in common in their careers in the teaching profession. After chatting for almost half an hour on the subject, in the final few minutes of their conversation, the man announced he was a sculptor and invited Clive to see his work. Maurice led Clive through nearby double garage doors in to his workshop. Clive was impressed by the high quality of the large sculptures he found inside and felt strongly that Maurice had a story to tell. Clive found the contrast of the power of the work, against Maurice's calm, understated demeanour intriguing.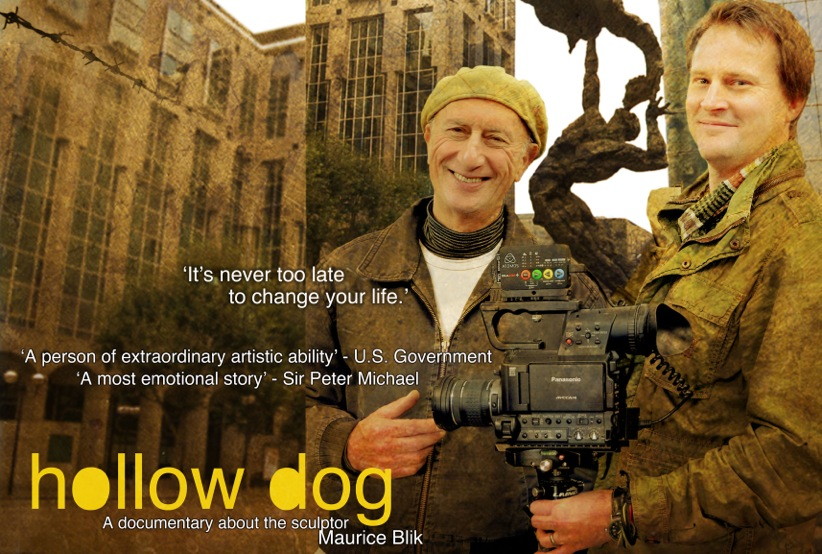 Maurice told him he studied sculpture at Hornsea College of Art but went on to Teacher Training College and left his art work behind to help provide for his young family. His wife was an artist working in clay and also a commercial artist, producing work for large companies such as Heals. Maurice occasionally found himself helping out with orders. At one point, she got a commission to produce a 'Horses Head' trophy and whilst the client was with his wife, Maurice went away and knocked one up out of clay on the spot. As a result, the client was so impressed, they commissioned Maurice to produce the work. It was then, in his 40's, that he left his teaching job and simultaneously his marriage broke down.
This change of career struck a parallel in Clive's own life. Clive, also in his 40's said;
"Spielberg talks about listening to your inner voice and I knew teaching was not a long term path for me and it was around this time that I began to look for something else."
In the summer of 2014, Clive finished teaching and approached Maurice with a phone call. In order to art fund the project, Clive raised £6000 through Crowd Funding website, Kickstarter. This was how a number of local people first got to hear about the idea.
Maurice had, in fact already had a film made about him previously but this was more of an abstract art film and focussed on the fact that he was a holocaust survivor. Clive was keen that 'Hollow Dog' would show that was a part of the story rather than the whole picture. Born in Amsterdam in 1939, Maurice was taken, at age 4, with his family to Bergen Belsen and witnessed first-hand the atrocities of the concentration camp. He stayed silent about his experiences for 40 years until he changed his career path and began creating the series of horses' heads. He has been prolific in his work ever since.
Over the next year, Clive interviewed other artists and people who commissioned Maurice's work, rising at dawn to film the magnificent, 'At First Light' commissioned by entrepreneur Sir Peter Michael for the Donnington Valley Hotel in Newbury. He accompanied Maurice to the Holocaust Memorial day at City Hall. In the event, Clive decided against using footage from the day as he didn't want it to envelope the film. Maurice appeared on BBC News talking about his experiences and the bronze resin 'Every which way' was commissioned by the Evacuees Reunion Association. In Hollow Dog, Maurice and his sister talk about their life during the war and the influence that has had on his work. He makes the very poignant observation that after a terrifying encounter with German soldiers, once you have faced death and survived, there is very little else to be afraid of in life.
The finished film is a major achievement as the production process is entirely independent, hence the burden of pre-production, funding, producing a trailer, sound, lighting and editing falls on Clive alone. Even the accompanying musical tracks by Silver Honey were written specifically for the film with some inspiration from Tom Waits.
Clive commented that it was important for him to feel that Maurice considered the film to be a fair representation of his life and work. Maurice and his wife Debra were pleased with the end results and found it very emotional.
Watch out for local screenings near you soon!
To get a taste of Maurice Blik's sculpture for yourself, you can find them at: 'Renaissance' East India Dock, Docklands 'At First Light' Donnington Valley Hotel, Newbury
www.mauriceblik.com – www.yamedia.co.uk
By Rachel Whitlam