The High Weald's Shop Window – Heathfield Show 28th May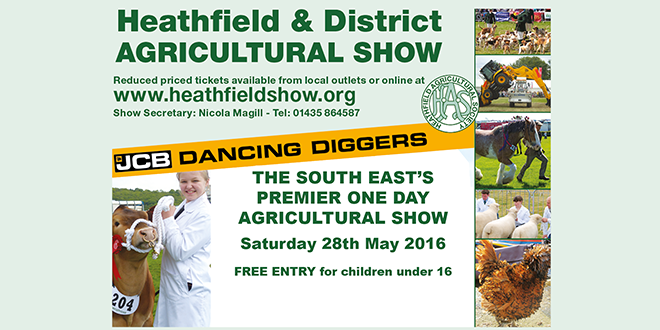 People driving past the fields of Little Tottingworth Farm in Broad Oak, Heathfield over the weekend will have noticed teams of people measuring out the field.  This was the beginning of two weeks preparations for the Heathfield & District Agricultural Show. 
David Unsworth White, our Ground Contractor, is responsible for directing the team of volunteers who are happy to drive in pegs and hold tapes but rely on David's expertise to make sure the marquees go up in the right positions, the roadways are the right width to give access to all areas of the Show and the showing rings meet the size requirements they need.
The Show always provides a lavish spread of entertainment together with all the countryside elements which make this such a successful event.  Where else would visitors be able to see the very best examples of livestock, beautiful, elegant horses, the latest in agricultural machinery and technology, traditional crafts such as shoeing and metalwork and wonderful displays of flower arrangements, all in one place.
The New Enterprise Zone will be promoting 10 start up businesses who have been trading for less than a year on Show day and have 'won' a free trade stand space at the Show. The Craft Marquee plays host to local craftsmen, and the Education marquee, this year sponsored by Bede's, will be show casing the 'how, why, what, when and where' of agriculture.  The Farmers Market area is bigger and better than ever before with local cheese makers, raw milk specialist and sausage makers occupying just a few of the stalls that will be present on Show day.
Anticipation is running high amongst all the volunteers – the JCB Dancing Diggers are this year's main ring attraction.  Pirouettes, bucket sweeps and the obligatory bangs and whistles will be the order of the day during their two displays and should not be missed.
'Hug a hen' was a popular feature of the Poultry marquee last year, this year pigeons will be making an appearance.  The Micro Brewery is featuring the beer of local breweries and this year a pint can be enjoyed accompanied by local band El Banda Barros.
Pre-show discounted tickets are available from www.heathfieldshow.orgn or various local outlets.