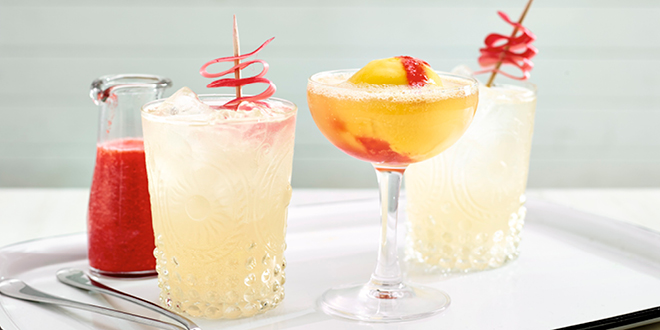 [one_half]
Ginger gin & rhubarb fizz
Preparation time: 5 minutes
Serves: 2
Ingredients:
60ml gin
1 tsp grated root ginger
Ice cubes
330ml can Cawston Press Sparkling Rhubarb
Method:
In a jug, stir the gin and ginger together, then cover and chill for up to 24 hours until ready to serve.
Strain the gin into 2 tall glasses and add a scoop of ice cubes to each. Top up with the sparkling rhubarb and serve.
Tip:
Make a garnish to decorate the glasses by threading ribbons of rhubarb peel onto cocktail sticks.
[/one_half][one_half_last]
Mango sorbet float
Preparation time: 5 minutes
Serves: 2
Ingredients:
200g strawberries, hulled and chopped
1 tbsp caster sugar
2 scoops Waitrose Alphonso Mango Sorbet
330ml can Cawston Press Sparkling Rhubarb
Method:

1. Place the strawberries and sugar in small pan and heat very gently for 10 minutes until the strawberries are very soft and pulpy. Press through a fine sieve and leave to cool until ready to serve.
2. Place a little of the strawberry sauce and a scoop of sorbet in long-stemmed glasses. Pour in the sparkling rhubarb, drizzle over a little more sauce, and serve with straws and long-handled spoons.
[/one_half_last]