Finance Company Build Big To Help Community's Young
Earlier this summer more than 300 staff from Santander Consumer Finance beat the British weather as they volunteered their time to a building project based at Hindleap Warren Outdoor Education Centre on the Ashdown Forest to improve facilities for the community youth organisation – London Youth.
The Hindleap Project started in early 2017 when a committee of 20 employees was formed. For the actual build itself in June which took place over seven days, more than 300 members of Santander Group staff took part – including colleagues from PSA Finance, Hyundai Capital and Santander Bank.
Santander Consumer Finance is focused on staff development and one of the ways it has found enables employees to be the best that they can possibly be is to take part in local community projects, and this is something the organisation does as a group as part of the Santander is You week.
Every year, Santander Consumer Finance takes part in a community project known as The Big Build and this year, London Youth at Hindleap Warren Outdoor Education Centre was chosen by a panel of judges to be charity for staff to undertake a large project, and soon a Big Build committee sprang into action.
A Group wide communication was issued to all staff inviting them to take part, and the response was incredible. Many new employees stepped forward to take part as well as staff who had taken part in years gone by. Staff came from across the UK with some flying down from Scotland to volunteer.
[one_half]
Fiona Woodhouse, from Santander Consumer, said: "Everyone was just amazing. Everyone worked tirelessly to make the project a success with the aim of providing two highly interactive facilities for the 10,500 young people who visit Hindleap Warren each year."
The weather proved to be the biggest challenge facing the volunteers – on the first day of the build, the rain poured down. However, staff made the decision to carry on regardless, they were not going to be defeated. Days later, the sun came out and it became very hot, a contrast to a few days before.
[/one_half][one_half_last]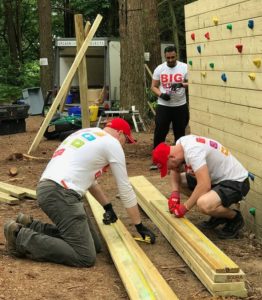 [/one_half_last]
This was the first time Santander Consumer Finance had taken on board a project of this scale.
There were effectively two projects running side-by-side at Hindleap Warren – obstacle course and high ropes – and they were both outdoors and at the mercy of the elements.
On this project there was a focus on providing each volunteer with the opportunity to both start and finish a set task daily. The nature of this project allowed volunteers to do this with different types of climbing obstacles being constructed and thus helping volunteer see the value in their efforts.
Speaking about the project, Fiona said: "Other than physical aches and pains, there was a sense of well-being and one of personal achievement. Many volunteers had never taken part in anything like this before and to find out that they could actually create something each day was so rewarding. Some even wanted to put their names down for our next Big Build in 2018!"
Tony Smith, head of Hindleap Warren Outdoor Education Centre, added: "We are thrilled with our new obstacle course and high ropes circuit, achieved with the help of Santander Consumer Finance. All of our 10,500 young visitors each year will be able to enjoy these activities, whatever their ability."
[box type="shadow" align="" class="" width="600″]
Volunteers Views
Staff from Santander gave the following remarks:
"Excellent experience – loved to help''
"Great fun as always" "Great team work"
"It makes me very happy that I could contribute to a happy childhood"
"I can see the smiles on the kid's faces already"
[/box]
By Jacob White