Ex-Bush Davies School Students Reunited To Unveil A Very Special Commemorative Statue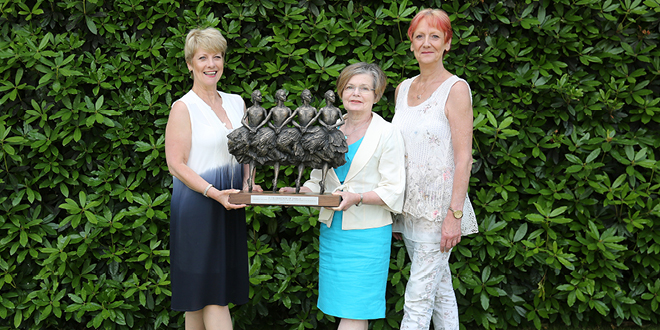 Three former students of the Bush Davies School of Theatre Arts in East Grinstead paid an emotional visit to their old school to unveil a commemorative statue. The old school, that established an enviable national reputation for dance, closed in 1989 and has since been converted into Charters Village.
School friends, Myra Tiffan, Jill Hembery and Candi Woodd were invited back to Charters Village to unveil a piece of art which was commissioned by the village to celebrate its history of dance and arts.
Retirement Villages funded the piece of art through the sale of the theatre seats in Charters Towers, now used as a communal lounge at Charters Village. One of the school friends who attended was Myra Tiffan who was head girl at the school from 1973 to 1975 and went on to start up her own dance school.
Myra, said: "It's wonderful to see that Retirement Villages have retained and restored many of the original features of the building – we even spotted names of our fellow dancers still etched on the wall! It's very evident that Charters Village brings such joy to the residents that live there, in the same way that the Bush Davies School brought so much joy to lots of dancers and performers."