East Sussex Youth Cabinet Aims To Tackle Knife Crime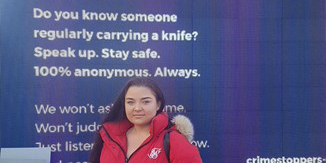 East Sussex Youth Cabinet Aims To Tackle Knife Crime
With a vote among young people in East Sussex putting tackling knife crime as their highest priority, East Sussex Youth Cabinet member Holly Bobbett attended the launch of Operation Sceptre earlier this year.
In the spring, Sussex Police spent knife crime awareness week at schools and colleges to inform young people about what to do if they are pressured to carry a knife, and what they should do if they feel in danger.
The youth cabinet campaign, supported by the Sussex Police Community Fund, aims to survey young people about their fears and perceptions of knife crime.
Members of the youth cabinet will also work with the local authorities, schools and Sussex Police
to develop a film about the issue in a bid to tackle the growing issue which is making national headlines.
For more information about East Sussex Youth Cabinet, visit: www.c360.org.uk/blog/category/rightsandvoice/youthcabinet