Do You Know The Home Counties?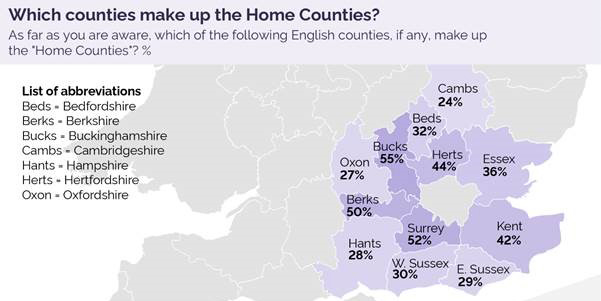 Do You Know The Home Counties?
According to a survey from polling company, YouGov, the majority of Brits do not know what makes up the traditional Home Counties, with just half of Brits able to name a Home Counties county.
Those asked about the Home Counties which includes the RH postcode recognised the Home Counties as being Buckinghamshire, 55%, Surrey, 52%, and Berkshire at a figure of 50%.
Sussex, which is historically associated with the Home Counties, however, fewer than one in three Brits include East Sussex (29%) and West Sussex (30%) as part of this group of English regions.
Matt Smith, research manager at YouGov says of the results: "The Home Counties are generally known to be in the South of England however it is surprising that there is as much uncertainty as to what makes up this group as there seems to be. Additionally, although Sussex has traditionally always been associated with the Home Counties, there are very few who think this today!"
For more information about YouGov, and the organisation's other polls, visit: www.yougov.com