Dennis and Gnasher's Big Bonanza at Wakehurst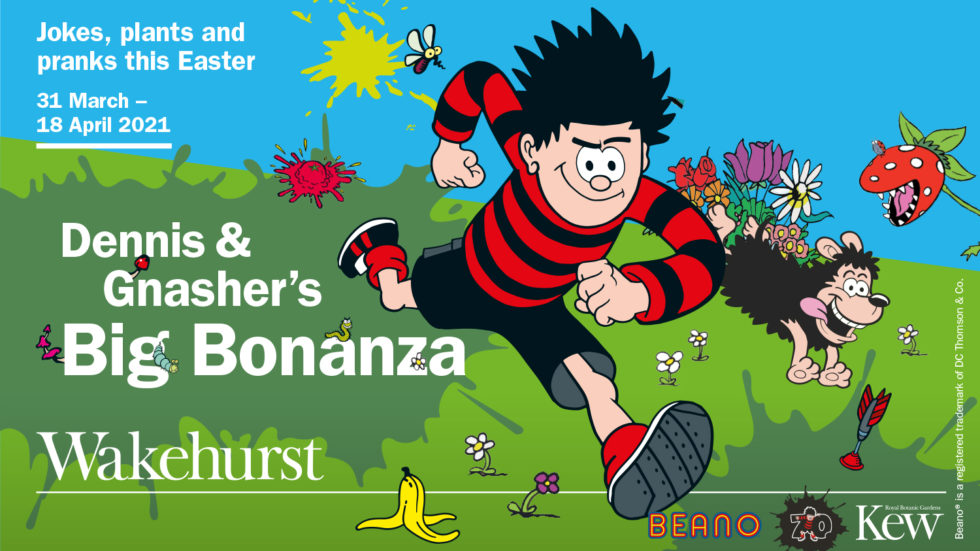 Join in the Beano family fun this Easter holiday at Wakehurst with their outdoor festival of jokes, plants and pranks.
Celebrate Dennis' birthday with Dennis, Gnasher and all their Beanotown friends with a brand new comic strip, exclusive to RBG Kew, and an interactive story trail around the gardens.
As part of the trail, join Dennis and his friends to help save Bananaman who has been hired to protect some vital Kew Science research, but has been shrunk by evil Dr Gloom.
Out in the gardens, discover the slimy, sticky, smelly and deceptive powers of plants to help save the day and unlock how to get Bananaman back to his normal size.
Will the 'banana bunch' succeed in their mission? Come to Wakehurst this Easter for Dennis' big birthday bonanza to find out how the story ends.
One family ticket (2 adults and 2 children)




to Dennis and Gnasher's Big Bonanza at Wakehurst (31 March – 18 April)
Keeping you safe: The Wakehurst team are delighted to welcome visitors to the gardens to enjoy the beauty, open air and respite offered by our gardens. Please rest-assured that COVID-secure measures have been taken to ensure your visit is as enjoyable and as safe as possible.