Crawley's Gold-Winning Paralympian Back On Her Bike To Face New Challenges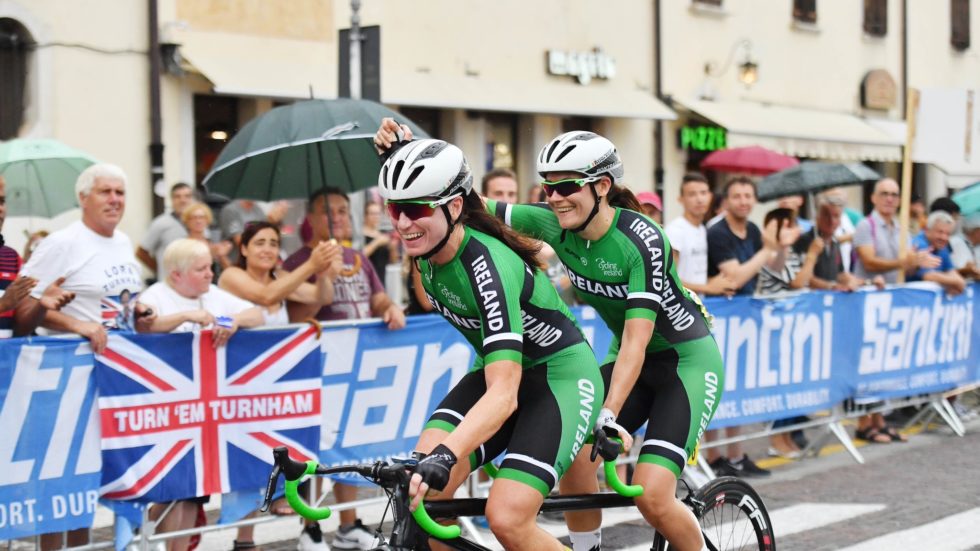 Crawley's Gold-Winning Paralympian Back On Her Bike To Face New Challenges
Following a double medal success in the Rio Paralympics of 2016, Crawley-born para-cyclist Katie-George Dunlevy could have been forgiven for taking things easy. However, the Republic of Ireland elite para-athlete is now getting fully in gear for new challenges including the UCI Para-cycling Track World Championships in the Netherlands this month, ahead of the Tokyo Paralympics less than 18 months away.
Last month saw St Patrick's Day celebrated in Ireland and far beyond the shores of the emerald isle by those of Irish heritage. One of Ireland's most successful sporting stars of recent times was in fact born in Crawley, Katie-George Dunlevy, winner of two medals at the 2016 Paralympics in Rio which followed-up silver at the UCI Para-cycling Road World Championships in 2014, in 2017 she bettered that by winning double-gold and again in 2018.
Reflecting on her career highlight, Katie-George, 37, says of her Rio experience in 2016: "Winning gold at Rio was definitely my biggest and best career achievement. It was massive, it is what all athletes aim for and comes around every four years. We went to win, but it was out of this world to win, before the Paralympics we had not won a time trial world medal so to win gold and a silver in the road race was a dream."
Growing-up in Crawley, Katie-George was a sporting all-rounder, before taking-up para-cycling in 2011, she competed in athletics, swimming and even represented Great Britain twice in rowing at the Para-rowing World Championship, she says: "I started running and swimming whilst I was still at school, I was always encouraged to get involved with sport by my parents and my PE teachers." With all of her para-cycling success and that of England football manager, Gareth Southgate, Crawley's sporting presence is growing, speaking of the town, Katie-George, says: "Crawley was a great town to grow up in. I have very positive and encouraging parents and we were very active as a family. I loved playing outside with the football and riding on a bike. There was an amazing buzz around the town with the success of Gareth and the team at the World Cup. Hopefully children from Crawley will be inspired and encouragedto have aspirations and work hard for what they want in life."
Katie-George's success today is the result of hard work alongside her sighted pilot, Eve McCrystal, on their working relationship, Katie-George, explains: "As a pair competing, it's a real team sport, it can be challenging at times, but it's very rewarding! There's a lot of hard work and sacrifices made from us both but standing on the podium, it makes it all worthwhile – all the time spent on a bike and in the gym and being away from home. I am lucky to have great support."
Speaking about a gruelling 18 months ahead for her and Eve culminating in Japan, Katie-George, says: "The challenge ahead is, don't stay complacent, we're now ranked the best in the world on the road, and everyone wants beat us, it's all about staying in the best condition and raising your game and rising to the challenge of Tokyo next year. There are small areas to improve and we'll work on those as others chase us."
The upcoming Challenges in 2019
Among the sporting challenges in 2019, Katie-George will face some of
the world's best para-cyclists in two visits to the Netherlands. 
UCI Para-cycling Track World Championships 2019
Apeldoorn, the Netherlands
March 14 – 17
UCI Para-cycling Road World Championships 2019
Emmen, the Netherlands
September 12 – 15