Crawley Young Readers Snack To Success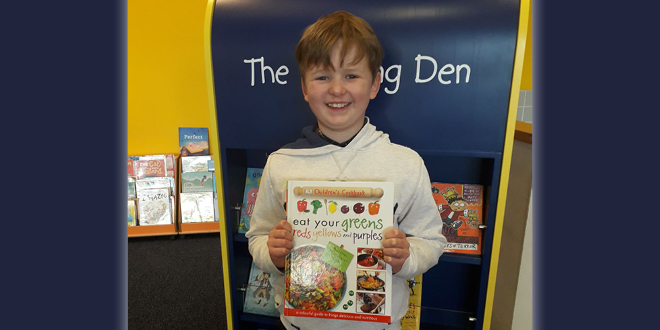 West Sussex families have been learning which foods and drinks contain the most sugar and spotting healthier alternatives as residents entered the healthier snacking challenge at libraries in the county.
A treasure hunt style quiz, part of the West Sussex sugar reduction programme, and delivered in partnership with the West Sussex
Library Service, saw them scouring the bookshelves for answers. It is thought youngsters are getting half their sugar intake from soft drinks and unhealthy snacks, like cakes and biscuits – children with a healthier diet are happier and better able to concentrate in school.
Childhood obesity is a serious concern with figures showing that in West Sussex 20.7% of reception school aged children and 28.6% of Year 6 children were overweight or obese in the period 2016/17.
The 12 lucky winners were presented with a copy of Children's Cookbook, Eat Your Greens, Reds, Yellows and Purples, one of the winners at Crawley Library was 10-year-old Elijah Norton.
His mum, Rachel Norton, said: "It was eye-opening taking part in the healthier snacking challenge. There is more sugar in some everyday foods than we might imagine, and it is good to raise awareness of this!"
West Sussex families are encouraged to visit: www.nhs.uk/change4life for healthier snacking ideas and to download the free Change4Life Food Scanner App to see what is really insidethe food they eat and the drink they drink.