Copthorne event proves it's not checkmate for chess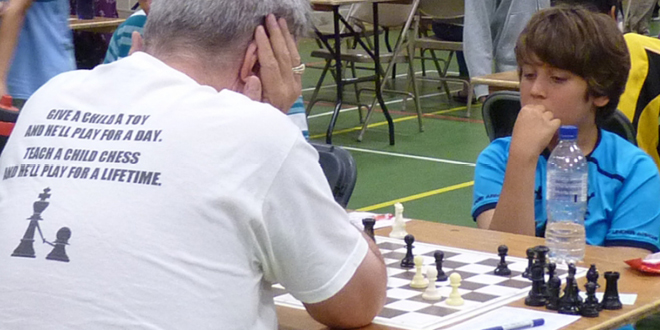 Think chess is only a game played by the older generation? Prepare to be surprised. Throughout the UK, six million people play regularly; with more than half of these being in the 18-34 age group.
On July 9 and 10, the Weald Chess Congress will take place in Copthorne and see more than 140 competitors of all ages pit their minds against each other. I spoke to a local dad – and the event's organiser – to find out about the 10th annual event and also how his kids got him hooked.
"Chess is not a hobby. It's a passion," dad of two Mark Currah tells me. "If you fall in love with the game you'll be playing for the rest of your life!"
He's not wrong. In recent years, many local schools (including Copthorne Prep School where the Weald Chess Congress will be held) have even incorporated chess into their curriculum as studies have shown that the sport has significant benefits for children including developing concentration, improving their ability to analyse, build logic and increase strategy.
That's why the chess tournament is especially exciting; as where else would you see a seven year old and seventy year old, play against one another – without being able to predict the outcome?
"Chess is an exceptional game in that there are theoretically an infinite number of moves in which a game can proceed. Although the game was developed about 1,500-years-ago, the rules have altered very little and yet it still continues to surprise, as new tactics are devised " the enthusiastic chess player continues.
"At the top level, chess is ferociously complicated, with Grand Masters calculating positions 20 moves in advance. On the other hand, the rules are relatively simple and children quickly pick up and master the game."
"One of the features of the Weald Congress is that it gives junior players the chance to compete against the very best adults. I can't think of another sport where adults and children can compete on an equal footing."
Mark, whose children learnt chess at school, actually got him into the sport, even though he does get beaten by them!
"I have a 10-year-old and an 8-year-old and they got into chess through school and then a local junior club a few years ago. They now regularly play with Sussex Junior Chess, who are the organisers of the Weald Congress," he says.
"I had to try and keep up with them! So I've only played for a couple of years, and the kids usually beat me; I'm their number one fan!"
With more than 140 entrants taking part in this year's two-day event coming from clubs far and wide such as East Grinstead, Brighton, Crowborough, Lewes, Hastings and Eastbourne, the popularity of the sport is evident.
Want to see for yourself?
Pop along to The Sports Centre, Copthorne Prep School, Effingham Lane, Copthorne on July 9 and 10
By Shelley Baker