Cider-soaked BBQ pork kebabs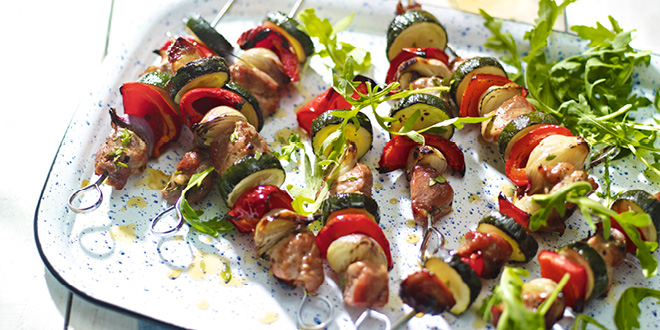 Preparation time:10 minutes + marinating
Cooking time: 25 minutes
Total time: 35 minutes + marinating
Serves: 4
Ingredients
½ x 568ml bottle Stella Artois Cidre
4 tbsp maple syrup
4 cloves garlic, halved
8 sprigs thyme
420g essential Waitrose British Pork Fillet, cubed
2 courgettes, thickly sliced
8 shallots, halved
1 red pepper, seeded and thickly sliced
Olive oil spray
Method
Place the cider in a large glass bowl and stir in 2 tbsp of the maple syrup, the garlic cloves and half the thyme sprigs. Add the pork and leave to soak for at least an hour or overnight.
Lift out the pork, discarding the marinade. Thread the meat and vegetables alternately onto 8 skewers. Spray lightly with the oil.
Barbecue, grill or griddle the skewers for 15–20 minutes, turning regularly until cooked through.
Strip the leaves from the remaining thyme sprigs and stir into the remaining maple syrup. Brush onto the skewers and continue to cook for a further 5 minutes until shiny and nicely browned. Serve with leafy salad and a chilled glass of the remaining cider.
A metal skewer works best with meat as it helps to cook faster.  If you're using wooden skewers, ensure you soak them in water for 30 minutes before using so they don't burn on the grill.
Thousands of recipes can be found at www.waitrose.com