Celebrating 65 Years: Horley Trefoil Guild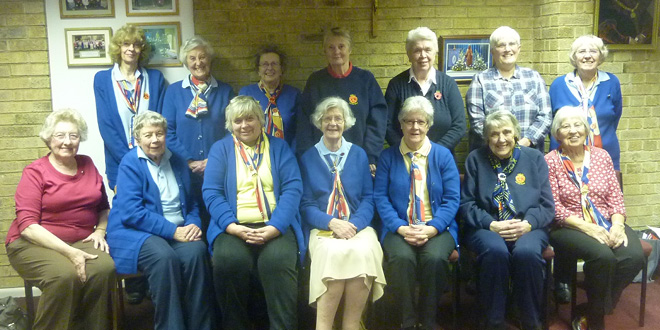 Horley's Trefoil Guild (a Guiding group for adults) has recently celebrated turning 65 years young!
Meeting on the second Wednesday of each month at English Martyrs Church Hall, Vicarage Lane, between 7:15 – 9:15pm, this interesting local group of former Guides and Guide enthusiasts support local Guiding and Scouting projects, as well as meeting up for fun and friendship!
In the 1920's, former Guide members, aged 18 and over, started forming unofficial groups to maintain contact with their old groups. 'Old Guides' was formed and then in 1943 the Guide Association bought together the various groups of 'Old Guides' and the name 'Trefoil Guild' was adopted.
There are now 1,100 Trefoil Guilds running across the UK, with over 20,000 members! As a branch of Girlguiding, groups pledge to support other people; including passing on their skills to Brownies and Guides.
Our local Trefoil Group, who recently commemorated their 65th anniversary, regularly support our younger groups, as member and former Brownie Guider, Anne Hawksley explains: "We interact with local Rainbow, Brownie and Guide groups helping, as requested, with their discos, open evenings and craft evenings."
Not only this, but the group take their pledges seriously and also lend a hand within the community through supporting Blackland Farm, organising coffee mornings and taking part in Horley's annual Christmas Tree Festival. They also hand out water from the water station at Denbies Wine Estate, during marathons.
As well as their community work, this great group enjoy hosting interesting speakers, craft nights, croquet parties, photo competitions and summer BBQ's too.
"We enjoy fellowship, interesting speakers and activities and through contact with the local Rainbows, Brownies and Guides organisations, we endeavour to help to encourage the spirit of Guiding in Horley!" Anne adds.
If you would like to join in the fun, contact: 01342 842 386