Campaigning for a Changing Place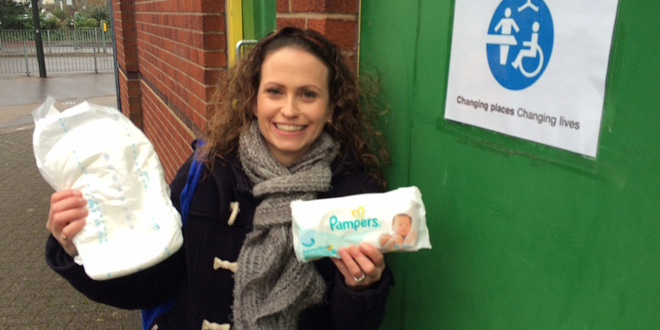 Congratulations are in order for Crawley Community Hero and Disability Campaigner Maria Cook, whose fight for a changing facility in County Mall, has just received funding from West Sussex County Council!
The Changing Place will be a fully accessible and inclusive space, with a disabled toilet with rails on both sides, an electric hoist, a height adjustable adult-sized changing table and height adjustable wash facilities and will hopefully open next year. The campaign started as the mum of seven year old Ryan (who has Autism and still needs to use nappies) found, first hand, disabled facilities desperately needed to be improved:
"I've campaigned for the much-needed facilities because my son, Ryan, is still in nappies at the age of seven and he is too heavy for the drop down, wall mounted baby changers you see in public toilets," Maria, who is also the Chairperson for Autism Support Crawley told us. "For the past three years I have had no choice but to lay him down on toilet floors to change him when we've been out and about. This is neither hygienic nor dignified and absolutely not acceptable. There are so many families like ours and adults too affected in this way."
"Just over two years ago, a Crawley Borough Council spokesperson said that there were no plans to upgrade the disabled toilet facilities in the town, so I made it my mission to change that."
"It's only until you're faced with this situation that you actually realise how awful it is."
The facilities, which are hoped to open next year, will cost £17,000 to install. They will make trips into town for children and adults with disabilities and their parent or carers a lot less stressful, without the worry of rushing home to change or being changed on toilet floors.
"To know I'm making a difference to so many people makes me very happy. The response I've had from the general public and families caring for someone with a disability has been overwhelming," Maria continues.
"It really is life-changing for a great number of us, who will soon be able to partake in the 'normal' activity of going into town shopping and have a coffee or some lunch, which is taken for granted by able bodied people. Right now, I have to dash into town with Ryan and be as quick as I can or limit where I go so I can get home in time in case he needs to be changed. Soon, I can stay as long as I like, safe in the knowledge that there will be adequate facilities available for us to use."
Well done Maria!
By Shelley Baker