Brand new space for growing businesses now available in Haywards Heath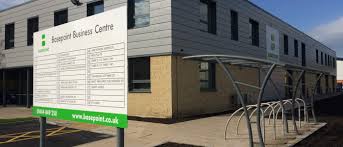 Small business owners in Mid Sussex that are looking to expand and grow their business can now do so with the help of a new Basepoint Business Centre.
The new business centre at Bridge Road in Haywards Heath provides office and workshop space for growing small businesses, giving them a stepping stone between working from home and larger business units. It is managed by Basepoint, a company which specialises in the development and operation of business innovation centres, and prospective small businesses are being encouraged to sign up now while space is still available.
Councillor Garry Wall, Leader of Mid Sussex District Council said: "The District Council is committed to supporting local businesses. Mid Sussex is highly entrepreneurial and this new centre will provide high quality, flexible space for growing businesses. Working with Basepoint, we have been able to deliver an excellent facility which offers 33 units; almost 70% of which are already occupied".
The brand new facility, which has been funded by a £1.33 million investment from Mid Sussex District Council and a £600,000 contribution by West Sussex County Council, was officially opened by Sir Nicholas Soames MP on Friday 25 September.
One of the local business owners who has moved into the new business starter units is Anita Watson-Jackson, founder of Quirky Genius.
"Quirky Genius started as a business run from home to fit around my three, then small children, in fact my first products were designed as gifts for my daughters and their playmates," said Anita. "Friends then asked to buy my toys and accessories and that gradually expanded to my current business supplying 40 plus shops.
"All my products are handmade which means my home is now bursting with fabric, toy stuffing, boxes etc and I was spending so much time moving things from one place to another I realised it was time to move out and reclaim our house again.
"The Basepoint units being built in Haywards Heath was perfect timing for me and totally fits with my plans for expanding Quirky Genius. The units are close to home, they have flexible terms so no long term financial commitment and they provide opportunities to network with other small businesses.
"Also, small things such as having a reception to receive parcels which arrive when I have nipped out on the school run will save me time and reduce my stress levels. I am really excited to be moving into my new unit and looking forward being able to grow Quirky Genius."
For more information about securing a business starter unit in Haywards Heath contact Basepoint Centre
Manager Roxanne Haid by calling 01273 467500
or email roxannehaid@basepoint.co.uk.
For more information about Quirky Genius visit www.quirkygenius.co.uk