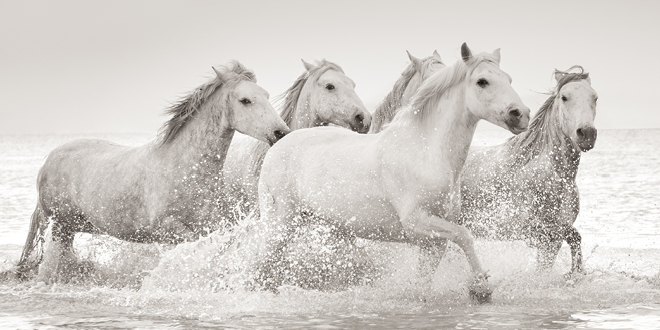 Carys Jones – Equine Photographer
We're told never to look a gift horse in the mouth but if you're ever given a gift of one of Carys Jones' prints it is impossible not to. Her photographs of horses are so exceptionally beautiful that you'll find yourself captivated by every exquisite detail of her images – mouths included!
When horsewoman, Carys Jones was made redundant from her job in marketing five years ago it was a blessing in disguise as she used her redundancy payment to upgrade her photographic equipment, and spent the extra time she had available on developing her photography skills. As a mainly self-taught photographer Carys uses her love of nature and horses to inspire her subject matter, and the photographs she produces give free 'rein' (sorry!) to her talent and illustrate what a natural gift she has.
Travelling to the Camargue and Iceland for photo shoots these spectacular locations are a stunning backdrop to her images. Whether galloping majestically through waves and fields or prancing playfully in lupins, these magnificent wild creatures are awesome subjects and her composition and use of both colour and black and white portray them in a stunning way. Her love of these beautiful animals is evident in every shot.
In contrast to the naturalistic style of her equine photographs, Carys also enjoys experimenting with abstract work and her floral shots though very different in style (creative and colourful with a rather dream-like quality) are equally beautiful. It is important to add here that all her photographs are very reasonably priced with prints starting at £75 and framed images from £195.
[tie_slideshow] [tie_slide]

 [/tie_slide] [tie_slide]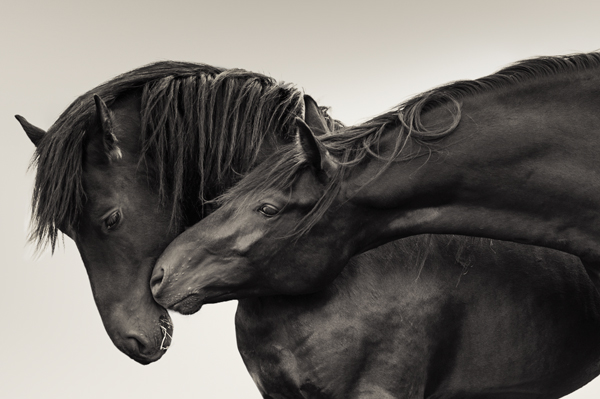 [/tie_slide] [tie_slide]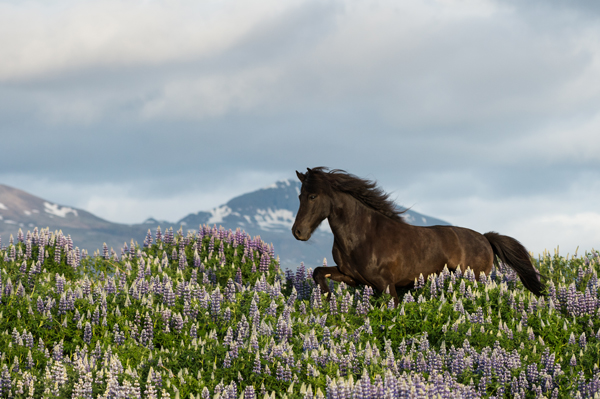 [/tie_slide] [/tie_slideshow]
Carys has recently started to exhibit her work and had her first show in 2015 at The British Dressage National Championships. In June this year, her work was displayed closer to home at Denbies Vineyard in Dorking. Both these shows were a great success, and she is keen to exhibit at other venues as opportunities arise. She is currently planning an equine fine art exhibition at Cranleigh Art Centre from 25th October – 5th November.
Having connections with the Cranleigh branch of 'Riding for the Disabled Association' (RDA), Carys generously donated part of her Denbies exhibition sales to their 'Riding High Campaign'
which is raising funds for an urgently needed new building to house their stables.
In total, her exhibition raised nearly £600 for the charity. Cranleigh RDA enables over 200 disabled riders to experience the joy of horse riding – a skill which has obvious physical benefits for their clients as well as improving their confidence and communication skills.
This therapeutic work is invaluable to the riders that use their facilities, but it is in jeopardy if they can't raise the required £560,000. It's a tall order but essential if their work is to continue into the future.
To see more of Carys' work visit: www.carysjonesphotography.co.uk or follow her on Facebook: www.facebook.com/carysjonesphotography
For more information on Cranleigh RDA visit: www.cranleighrdagroup.co.uk
By Sarah Ballingal