Apricot and Apple Strudel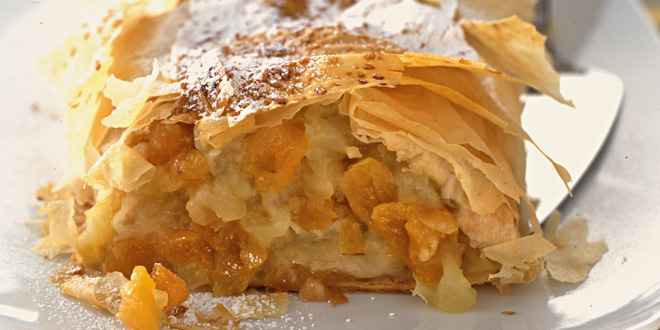 Serves: 4-6 – Ready in: 60 minutes
Layers of light and crispy filo pastry wrapped around a sweet fruit filling makes a delicious pud that tastes just as good warm as cold. Serve with tangy crème fraiche, thick Greek yogurt or vanilla custard.
[box type="shadow" align="" class="" width="800″]2 large cooking apples
Finely grated zest of 1 lemon
85g no-need-to-soak dried apricots, chopped
50g fresh white breadcrumbs
1 tsp ground mixed spice
7 tbsp Demerara sugar
6 large sheets filo pastry (approx 200g)
50g unsalted butter, melted Icing sugar, for dusting [/box]
Preheat the oven to 190C/375F/Gas Mark 5. Peel, core and finely chop the
apples and place in a bowl with the lemon zest, apricots, breadcrumbs,
mixed spice and 3 tbsp of the Demerara sugar. Mix well.
Place 2 sheets of the filo pastry, slightly overlapping, on a large greased
baking tray. Brush them liberally with some of the melted butter then
arrange 2 more sheets on top. Brush with more butter and top with the
last 2 sheets.
Spoon the apple mixture along one long pastry edge, leaving a 3cm border.
Sprinkle over another 3 tbsp of Demerara sugar. Fold in the two short ends
of the pastry then roll up loosely from one long side to enclose the filling,
making sure the seal is underneath. Brush the pastry all over with any
remaining melted butter and sprinkle over the rest of the Demerara sugar.
Bake in the preheated oven for 35-45 minutes or until the pastry is crisp
and golden. Check after 25 minutes and cover loosely with foil if the pastry
begins to go too brown. Serve warm or cold dusted with icing sugar.
Tip: Adding breadcrumbs to the fruit mixture helps to soak up any
juices and stop the pastry from becoming soggy. You can replace them
with ground almonds, if liked.