Apprenticeships VS Further Education: Which to Choose?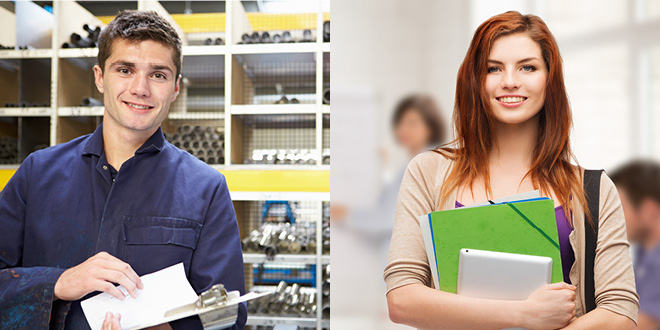 [one_half]
Apprenticeships
Over the last year alone, 49,000 young people took up apprenticeships in the South East, according to the National Apprenticeship Scheme. Clearly a popular option for school and Sixth Form leavers alike, apprenticeships offer on-the-job training whilst receiving a small wage. This earning-while-learning mindset, has undoubtedly proved successful, with many schools, including Oriel High School in Crawley, seeing pupils opt for a placement:
"Apprenticeships are becoming a more popular option with young people leaving Oriel after their GCSEs or A levels," Ryan Sallows, business manager for the school, explains.
"Apprenticeships are becoming an attractive alternative to university for Sixth Form leavers, in particular. We have had students go onto very successful apprenticeships in engineering, accountancy and horticulture, for example. Young people like the 'earn while you learn' ethos of apprenticeships."
Sue Husband, director of the National Apprenticeship Service, also agrees, telling us; "Apprenticeships are thriving in England, and it's not hard to see why. They offer ambitious young people unrivalled career prospects and personal development opportunities. Apprentices earn while they learn in a real job, gaining a nationally recognised qualification and a bright future.
Young people can 'get in and go far' with an apprenticeship at some of Britain's biggest and brightest companies. They can gain the skills and knowledge they need to succeed up to degree level, while working and earning."
[/one_half][one_half_last]
Further Education
While apprenticeships have become a great option for those wanting to get stuck into a practical career, straight from school, there are still record numbers of pupils hoping to go to college and then on to university. This year saw over 400,000 young people be accepted onto university courses, through-out the UK – a rise by 3% compared to 2014.
Recently, a government report on The Impact of Further Education Learning found that almost a third of students who participated in further education courses, gained better employment than those who didn't. The same report also found that 58% of people who completed their course, had high job satisfaction,
while 80% said that further education had improved their self-confidence.
Of course, when it comes to choosing which option will give your child the best future; you and your child are the best qualified people to decide.
This month, many colleges and universities will start to hold open days, which provide a perfect opportunity to chat through further education options suitable for your child, so be sure to go along and ask questions. If you would like information on apprenticeships, search for apprenticeships or traineeships on GOV.UK
or call 08000 150 400.
The National Careers Service is also on hand to help anyone aged 13 and over, offering free and impartial advice and online tools, and can be contacted in confidence by telephone on 0800 100 900 or www.nationalcareersservice.direct.gov.uk.
[/one_half_last]