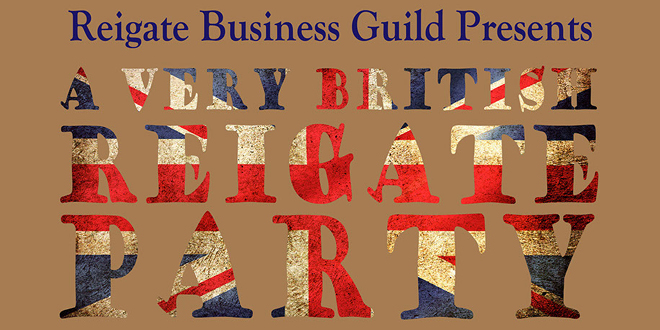 BOGOF! It's not a term I would usually use in reference to royalty but Buy-One-Get-One-Free always comes to mind when I think of the Queen and her birthdays. She has a regular one like the rest of us (hers being April 21), but then she has an extra one thrown in for free in June. It must be rather nice receiving two lots of birthday treats but then the downside is having to write
all those thank-you letters, of course.
Reigate is to mark Her Royal Highness's extra 'official' birthday this year with 'A Very British Reigate Party' in Priory Park on June 12. Partnered with and supporting The British Legion, Reigate Business Guild have stepped up and taken on the task of organising a day of royal revelry in honour of our amazing monarch
as she celebrates her 90th birthday.
Events will kick off loudly at midday with The Surrey and Sussex Drum and Bugle Band parading through the town from the Town Hall in Castlefield Road down into the Priory.
The park will be a riot of colour on the day with a liberal spread of Union Jacks and Chelsea Pensioners. Although the Queen herself won't be making an appearance, local nonagenarians have been invited to join in the birthday celebrations. They have lived through every stage of her reign and can reminisce, comparing memories as they enjoy their well-deserved free tea and cake. We
youngsters of 89 and under will have to pay for our refreshments, of course, but there will be a wonderful choice from various local traders including street food and beer, and rather more genteel Pimm's and afternoon tea. If you enjoy cooking yourself, there will be a competition to make 'A Cake for a Queen'.
Entertainment throughout the afternoon will be varied and glorious with live music from local favourites Eddie Smith and the 507 (named the UK's best Unsigned band of 2015), with their mix of soulful blues and melodic pop. At the other end of the musical spectrum, award-winning soprano, Joanna Forest will be performing on stage. I wonder which act would get Elizabeth's foot tapping if she were in the audience?
Other entertainment will include a vintage fair, a display of military vehicles, face-painting and a 1970s-themed fun sports event with sack, wheelbarrow and egg & spoon races. The afternoon will finish at around 6.00pm and for those with enough puff left after all that exercise, excitement and eats, the grand finale will be a rousing proms-style sing-a-along.
Some readers may have had the honour of attending one of the Queen's garden parties at Buckingham Palace, but for the rest of us, the next best thing is A Very British Reigate Party
in The Park.
Happy Birthday, Your Majesty!
For more information: www.reigatebusinessguild.co.uk
By Sarah Ballingal