What's it like to be a Dog Warden?
As this month is National Pet Month, we wanted to uncover a little bit about a community role that not only tackles issues and complaints about man (and woman's) best friend, but also plays a big part in re-homing dogs to loving local homes and ensures that they are microchipped which from April is now a legal requirement.
We caught up with Caroline Grant, Reigate and Banstead's Dog Warden to find out more about her pawfect job:
How long have you been a Dog Warden?
I have been a Dog Warden for seventeen years – twelve working for Mole Valley and five for Reigate and Banstead. I moved to Reigate and Banstead when their Dog Warden retired. This was a challenge as I did not know the area at all!
What does an average day look like for you?
My day starts in the office with a cup of coffee while I check to see if any dogs have been handed in to the out-of-hours service, and to keep up to date with any paperwork
Every day is different. I make a plan of action every day but very rarely stick to it as things come in that have to be dealt with!
What does your role consist of?
I deal with anything dog related; complaints about fouling, barking, welfare issues, dog attacks, strays and rehoming and do microchipping. I work closely with the vets, RSPCA, police, housing associations and rescue centres.
Strays have to be returned to their owners if they are claimed and chipped, if needed, prior to this. Unclaimed dogs have to be rehomed. They are put on Facebook and Twitter, but mostly I find homes through other routes. Some dogs, unfortunately, have to be put to sleep. This will only be if they have severe medical problems or are too aggressive to rehome. Cats that have been involved in road traffic accidents have to be scanned, and if chipped, I have to inform the owner, which, as you can imagine is not a nice job! In between everything else, I patrol parks and open spaces.
How can we find out about dogs that do need re-homing?
Anyone wanting to take on a dog can either call me or fill in a form on our website. I keep a list of people waiting for dogs.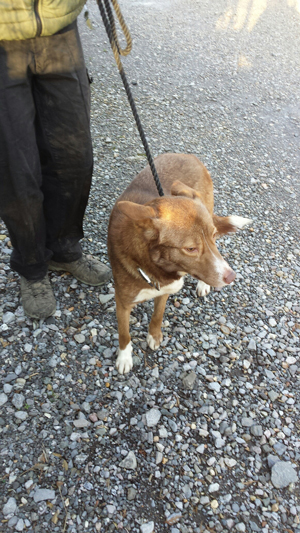 Microchipping becomes a legal requirement this month, how can you help?
I have free chips and will visit your property and can implant your dog for you. Just call the main helpline, and an appointment can be made. Enforcement is also part of my job.
Speaking of legal requirements – is there anything else, we dog owners should know?
It is a legal requirement to have a collar and identification tag on your dog at all times. Failure to do so carries a fine.
If you would like to rehome a stray dog or want to find out more about microchipping your dog for free, visit: www.reigate-banstead.gov.uk or call: 01737 276000 / 07974 325164.