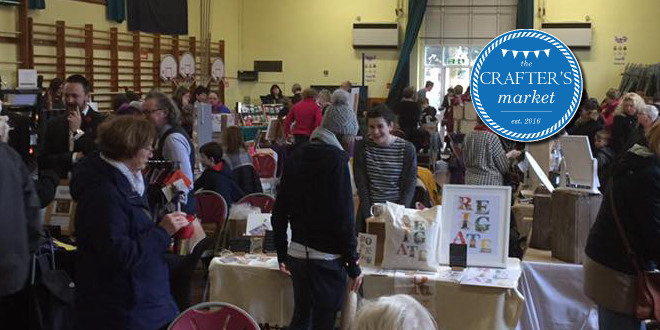 "Ooh, look! A craft market!" These words are enough to strike fear into my husband's heart, he knows that he is about to lose me in a sea of stalls until I surface hours later with my 'catch' of heavy bags (and lighter wallet). Dare I tell him that there is now a craft market each month in Reigate? I better not, he may want to move!
Recently celebrating its first anniversary, Reigate Crafter's Market came into being in April of last year thanks to founders Sarah Skitt and Liz Maginnis. As teachers and established crafters
themselves, this market represents their largest creation yet.
Sarah and Liz have been trading at other Surrey and Sussex venues, but they were keen to see a regular market in Reigate which would bring together a wealth of talented designers from the local area.
Before too long they realised that the most likely way this was going to happen was if they started one up themselves, and after investigating various locations, they settled at Reigate Priory where once a month they convert the school gym into a shoppers' paradise.
Sarah, aka The Flower Girl, creates paper flowers, pictures and gifts, while Liz is a seamstress and founder of Little Bean Clothing, making clothes inspired by her own little bean – daughter, Ella.
Together they have attracted like-minded artists, with their own line of hand-crafted goods, some decorative, some functional, some edible, but all beautiful – almost 30 stall holders come together. They sell oodles of imaginative gifts for the entire family, even the dog!
Entry is free, so shoppers have extra to spend on a cuppa at the market's café which serves Creative Kat's delicious cakes to weary browsers and there is a children's craft table for young crafters.
Packed as it is with stalls Sarah and Liz are always keen to hear from new designers who would like to join this thriving craft community.
It has become a real 'family' to the members, and they often get together for social gatherings as well as the monthly markets.
[box type="shadow" align="" class="" width="600″]
Details and market dates can be found on the website – this month's market is on Sunday, May 14.
The Crafter's Market (Monthly) The Gym, Reigate Priory School, Priory Park, Reigate RH2 7RL
Website: www.thecraftersmarket.co.uk
Facebook: www.facebook.com/Reigatecrafters/
Email: craftersmarketsurrey@gmail.com
[/box]
By Sarah Ballingal