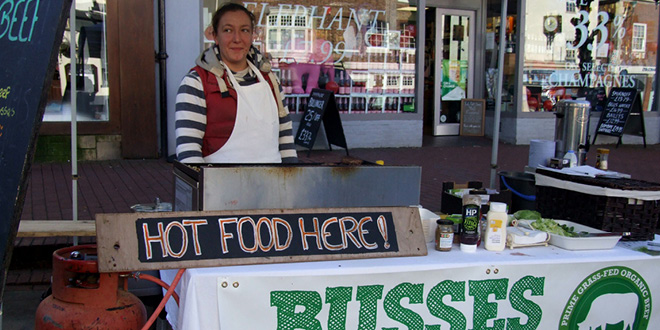 East Grinstead has a long tradition of having a Farmer's Market that dates back as far as the 12th Century. The earliest market was the ancient chartered market, where stalls were set up on what is now known as Middle Row. These temporary stalls were eventually replaced by fixed buildings that provided shelter for traders and made the market more permanent.
Eventually, the Middle Row market died out in the mid 1850's. Market day in East Grinstead has historically been Thursday. At one time, cattle and other animals were auctioned off by Turner, Rudge and Turner on the site where the Museum now stands. There is an amusing story that on one such market day, a cow appeared in the bar of the Dorset Arms. The livestock market finally closed its doors in 1970 but furniture auctions continued on the site until 1985 and there are many folk in the town who hold fond memories of both working and shopping at the fruit and
veg, clothing and hardware market that ran on a Saturday through the 70's.
The market, in its present format, started in 1998 and was held monthly in the Chequer Mead Car Park, before moving to its current position in the Market Square area of the historic High Street.
When I first moved to the area in 2006, the market was thriving with a number of stalls to choose from but in recent years, numbers dwindled and the market nearly ceased trading in 2011. Jonathan Ansley at the Town Council is responsible for the market and is very keen to increase the 'footfall' and keep the market tradition alive as it is believed to be the last proper locally produced Farmer's Market in Sussex. If you are interested in having your own stall, you can contact Jonathan at the Town Council to discuss discounted rates.
The market is attended by the ever popular Chris Veasey & Son, Fishmongers from Forest Row. Chris is one of the original stall holders from the early days and has his own boat, catching fresh fish at Newhaven the day before. Cyrnel Bakery, also from Forest Row offer freshly baked rolls and breads. A relative new comer is Busses Meat Boxes, Cattle Farmers who sell sausages and beef. They work with Jacob 's Ladder to provide fresh cooked sausages and burgers on market day. The aroma of frying onions and sausages is very enticing. In addition there is Brambletye Fruit Farm, Biodynamic Farmers, who use no pesticides and offer eggs, veg and fruit juices. The High Weald Brewing Company is a popular addition selling boxed beers, perfect for presents and there is hope that the relative newcomer to the town, 'The Open Arms' Microbrewery will have a cheese stall.
After reading an article in the Evening Standard about 'up and coming East Grinstead', I would have to agree that there is a definite 'buzz' in the air on the High Street with the cosmopolitan café's, independent gift shops and popular branded clothing stores. A thriving vibrant market is a 'must' for a traditional Market Town.
East Grinstead Museum is running an exhibition entitled 'Markets & Fairs' until May 22nd where you can find out more about the history of East Grinstead and its markets. In addition, Simon Kerr is taking two guided walks, leading you through the town's history from medieval to recent times on Sunday 10th April 11.30am – 12.30pm and again on 21st May 2.30pm – 3.30pm. Adults £5 / Children £2.50. Booking is advised with proceeds going to the museum. www.eastgrinsteadmuseum.org.uk
East Grinstead Farmer's Market runs every Thursday from 9.00am – 2.00pm.
By Rachel Whitlam