Sackville College celebrates its most famous warden – 150 years on!
Not many people have heard of John Mason Neale, the most famous Warden of Sackville College, but most people know the traditional Christmas carol penned by him, Good King Wenceslas.
The hymn was first published, during his time at the College in 1853, amongst many other articles, hymns and carols and was written from the desk in his study, overlooking the Ashdown Forest. He also wrote 'Good Christian Men Rejoice' and 'O come, O Come Emanuel'. Anyone visiting the College on a tour can visit this very atmospheric room and imagine the brooding dense forest that lay beyond the window 150 years ago.
Sackville College has been an alms-house since it was first founded by Robert Sackville in 1609 and is one of the 'must see' places of historical interest in East Grinstead. John Mason Neale first came to Sackville as a Warden in 1846, aged 28 with his wife, young daughter and baby son. The son of a clergyman, he was ordained in 1841 and initially was the Vicar of Crawley before coming to Sackville. He was an energetic and caring Warden, and it was at his instigation that an infirmary room was set up next to the Chapel so that sick residents could still hear the service without actually having to attend.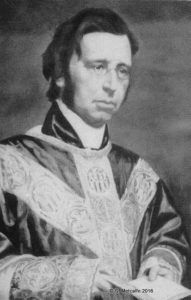 Each week he would invite all residents to Sunday lunch in the dining hall to ensure they all ate at least one good meal a week. During his time as Warden, he also restored the Hall, Chapel, Well House and pensioner's rooms.
Mason Neale was 'High Church' in his sympathies and supported the 'Oxford Movement' and in an era when many Anglicans were suspicious of Roman Catholicism, some people suspected him of being a supporter of the Vatican. As a result, he endured several bouts of opposition in his lifetime and was on occasion subjected to mob violence with unruly crowds threatening to stone him or burn down his quarters in the College. On one such occasion, his wife bravely managed to persuade the angry group to change their minds.
He founded the Society of St Margaret's in 1854, which was a sisterhood of nuns who went out and attended to the poor of East Grinstead. They would operate in very tough conditions and set up a soup kitchen for the poor in the town. This was quickly added to with a school and orphanage and the Society spread with autonomous houses in Scotland, the East End of London, Walsingham, and eventually the USA and Sri Lanka.
His last public act was to lay the foundation of a new convent for the Sisters on St Margaret's day but his health failed him, and he died, probably of consumption, aged only 48, leaving his wife and 5 children.
John Mason Neale is buried close by in the grounds of St Swithun's Church and there is a window dedicated to him in the church.
[box type="shadow" align="" class="" width="600″]Events at Sackville College:
20th August 7.30pm – A recital by The Greenstede Duo will be held in aid of the repair fund. Tickets are £10 to include refreshments and are available from the College office.
Sackville College is open to visitors from mid-June to mid-September from Wednesday to Sunday, from 2-5pm, Adults £5, children £1. Parties can be shown around by appointment throughout the year with tea and cakes provided. Tel: 01342 323414[/box]
By Rachel Whitlam