Rockinghorse Celebrates Its 50th Anniversary By Supporting The Special Care Unit In Haywards Heath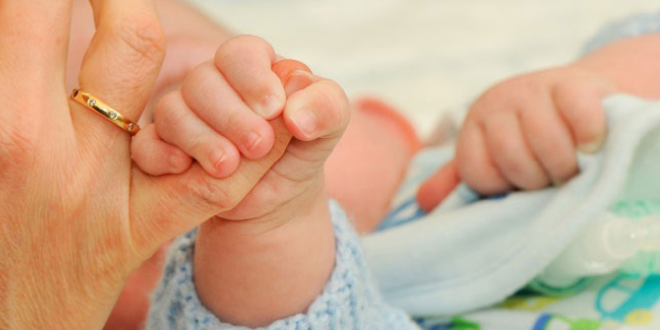 To mark their Golden Jubilee, children's charity Rockinghorse has created a gift box for each baby discharged from the Trevor Mann Baby Unit in Brighton or the Special Care Baby Unit in Haywards Heath.
Inside the box is a special 2017 graduation babygrow and bib, courtesy of personalisation gift company 3 Blonde Bears, a handmade sensory blanket donated by Project Linus UK, and a gold-plated Rockinghorse pin badge and charity wristband for parents – the box itself has been created by the team at Face Media Group.
Louise Bartha, Appeals and Trusts Fundraising Manager at Rockinghorse, said: "We're delighted to have gifted our very first baby box in celebration of a baby boy from Burgess Hill discharged from the Special Care Baby Unit. Huge thanks to our partners 3 Blonde Bears, Face Media Group and Project Linus UK for making these gift boxes possible."
Jo Myles, Founder and Managing Director of 3 Blonde Bears, had premature twins in 2009 explains why she's supporting the project: "Both Amelie and Dexter were taken to the Trevor Mann Baby Unit at birth and then moved to the Special Care Baby Unit in Haywards Heath, before coming home six weeks later.
The support offered in both units was excellent. I am extremely pleased to be supporting Rockinghorse with the baby box project in their 50th year."
Rockinghorse was set up in 1967 by Dr Trevor Mann as an appeal to provide the first neonatal incubator outside of London. The fundraising was a great success, and the equipment was purchased for the Royal Sussex County Hospital in Brighton to treat premature babies. The appeal marked not only the beginning of the charity but also the early days of what later became the Trevor Mann Baby Unit.
The dedicated team at the Special Care Baby Unit (SCBU) at the Princess Royal Hospital in Haywards Heath cares for premature and sick newborns in the Mid Sussex catchment area who require short term high dependency care. Rockinghorse is a vital supporter of SCBU, where more than 250 babies are treated each year.
Rockinghorse is working with the SCBU to help improve the facilities and provide the necessary equipment they need to continue high-quality neonatal care. As part of their 50th-year celebrations, they are funding the reconfiguration of the unit, with the introduction of Metavision, an electronic patient record system.
In 2015 there were 284 admissions to the SCBU, and there is a real need to improve the services which are currently available within the unit. The reconfiguration will allow the nursery to be expanded, creating more space for emergency admissions and provide better access for mums to visit in wheelchairs as well access for neonatal transport incubators.
[box type="shadow" align="" class="" width="600″]
Rockinghorse would love to hear from parents with babies recently discharged from the Trevor Mann or Special Care baby units, who would like to claim their baby box free of charge.
Call Louise at Rockinghorse on: 01273 330044 or email: louise.bartha@rockinghorse.org.uk
[/box]
By Georgia Lambert