Primary schools and local companies come together to inspire children in STEM.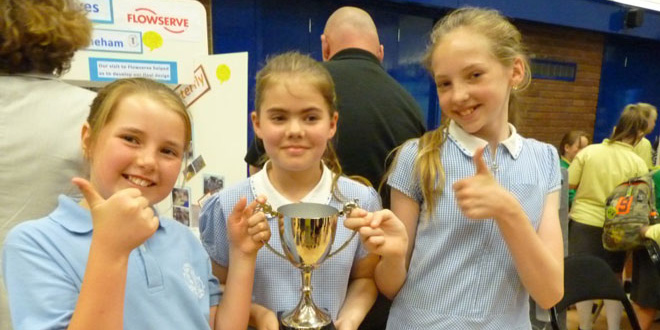 Objective: to inspire children in years 5 & 6 in primary schools in science, technology, engineering and maths (STEM).
Principal measures: 1. Feedback from participants; 2. Longer term to see an increase in students from the locale studying STEM subjects at A-level and university.
Supporting organisations: We have received official support from STEMnet and The Big Bang. We have also had expressions of support from, inter alia: Rt Hon Sir Nicholas Soames MP; Garry Wall Leader of Mid Sussex District Council; Pat Arculus Chairman of West Sussex County Council; other Mid Sussex District Councillors and West Sussex County Councillors; Sarah Wright Principal of Central Sussex College; Warden Park Academy Trust and Haywards Heath Town Team.
What are we doing: We held an inaugural science week with participating primary schools in Mid Sussex, supported by STEM businesses, both local and national.
The week consisted of a project based activity determined between the company and the school with a fair at the end of the week in which participating schools and companies presented their joint projects and the winners received prizes. The fair was an official Big Bang event and featured a Big Bang presentation jointly sponsored by BAE Systems and the RAF.
Methodology used included:
• Visits by schools to STEM companies (STEMcos)
• Visits by STEMcos to schools
• Project work in schools organised by STEMcos
• A STEM fair involving schools and STEMcos
• Careers advice on STEM by STEMcos
• An ongoing relationship between participants thereafter
Outcome: We had ten local primary schools and companies engaged in the activities with nine taking part in the actual event. Feedback has been very positive in general, with everyone encouraging us to make this an annual event. We are now entering the planning stage for 2016.
| | |
| --- | --- |
| School | Company |
| Northlands Wood | Schlumberger |
| Harlands | Fläkt Woods |
| Holy Trinity (winners) | Bourne Construction |
| Warden Park Primary (third) | BAM (Construction and Nuttall) |
| St Wilfred's (fourth) | Sunninghill |
| Bolnore Village | Solum Regeneration |
| St Marks | Building Heroes |
| Twineham | Flowserve |
| Lindfield (runners-up) | BSE3d |
The winners received a cup and 2nd and 3rd place a shield. The top four schools all received a Big Bang show in their school for the whole school.
Some questions we asked at the start:
1. Do you agree there is a shortage of STEM skills in the Mid Sussex area and employers find it a challenge to recruit sufficient appropriately trained staff to STEM vacancies?
2. Do you feel there is a lack of interest in STEM subjects in children, particularly girls, as they transition from primary to secondary education?
3. Would you support efforts to encourage more enthusiasm for subjects like maths, physics, chemistry and biology as children choose which options to progress through secondary school?
4. Do you think a project based Mid Sussex Science Week aimed at years 5 to 8 (ie 10-13 year olds) would help to inspire children towards STEM orientated subjects?
5. How might you and your organisation be able to assist in such a project?
6. Would your organisation be interested in sponsorship for such an event?
7. Would you or your company be interested in nominating someone to join the organising team?