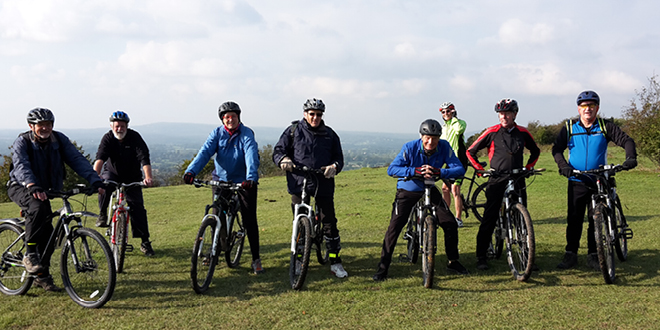 'MAMIL'. Any guesses? It stands for 'Middle-Aged Men in Lycra', and having heard it, I can't get the image it conjures up out of my head!
I hasten to add that there was a perfectly innocent reason why I was discussing men in Lycra – I was chatting with Antonia Rees-Brown, founder and Chair of 'BikeFit Surrey', to whom men (and women) in Lycra are just part of a day's work.
Antonia originally started BikeFit Surrey as a small group getting together to exercise in an easy, relaxed way, but this refreshing approach to cycling soon attracted interest and her group is now an official club with a membership of over 40 riders. It serves as an entry point for social and club cycling offering led cycle rides of one to two hours around beautiful South East Surrey. It's a great way to encourage anyone thinking of returning to cycling after a long break, or those just looking for some friendly company as they ride.
The social aspect of BikeFit is as beneficial as the fitness it develops; the ride pace is mostly 'conversational and leisurely', no one is left behind, and all routes are planned to include tea shop and pub stops. It is not competitive and whatever a cyclist's skill level, there are suitable routes using a combination of quiet roads, bridle-paths, fields, woodland and hidden tracks. All that is required of new-joiners is that they are able to ride for an hour on the level. This ensures they have the necessary stamina.
Rides take place during the week (8-12 riders on each). There are one or two weekend rides a month, and three levels to choose from:
Ride Easy – to help to build confidence and ability
Ride Steady – for those who are ready to push themselves a little to increase fitness
Ride Well – for those ready to take on more of a challenge
No membership commitment is required initially; there is no charge for the first two rides, and a bike can be loaned for the first ride if necessary.
Even so, a whole year's membership is just £20, so if you ride once a week, that works out at less than 40p per ride! No gym membership can offer that value for money.
I should add that Lyra is not compulsory, but comfortable, brightly-coloured clothes with a waterproof top are advisable, and a helmet essential. Bikes must be mountain/hybrid (road bikes are not suitable). The BikeFit website has more information.
As for me, I can't ride a bike at all, but there is one piece of advice on BikeFit's website that I will take on board: 'It's a good idea to keep a chocolate bar around in case you feel a bit tired suddenly'. Now that I can do!