The Old Stables, Park Lane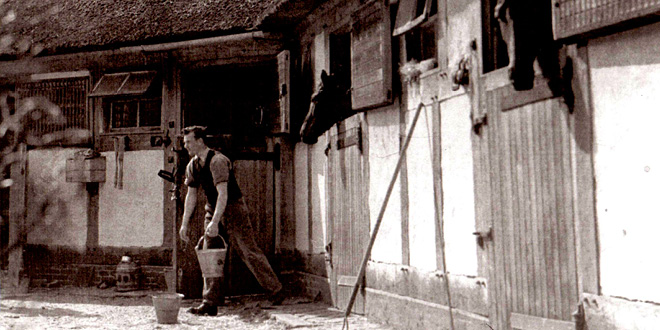 Even now, decades since I last sat on a horse, there is no sound like the clip-clop of metal on tarmac to make me stop whatever I am doing, rush to the window, and admire the beautiful creature passing by. Instantly, I am 12 years old again, avid reader of Ruby Ferguson's 'Jill' books, and longing to have a pony of my own. If only I had lived then where I do now, when Jack O'Donoghue ran the Stables in Priory Park.
Trudi Eustance, an instructor with The British Horse Society*, remembers it well. Trudi started work with Jack in 1978 and has happy memories of her time working for the 'Governor'. So much
so, that her daughter, Megan, is named after the horse she rode whilst expecting!
Jack was a character with a capital 'C'. Charismatic, clever, comical, and an expert trainer. His skill with difficult horses brought him to the attention of one very famous racehorse owner, the Queen Mother, and she trusted him with several of her horses: Gay Record, National Emblem, Sunbridge Manicola, Augustine and Corragheen. Stable hands reminisced about her visits when she would sometimes bring members of her family.
[tie_slideshow] [tie_slide]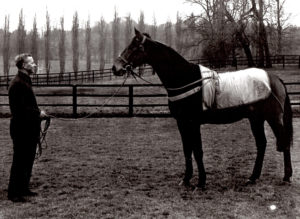 [/tie_slide] [tie_slide]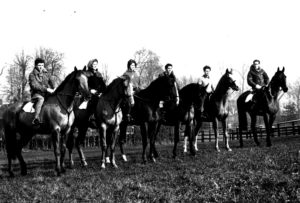 [/tie_slide] [tie_slide]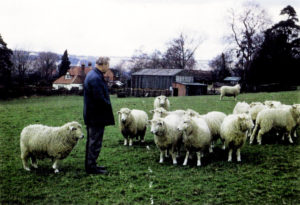 [/tie_slide] [tie_slide]
[/tie_slide] [tie_slide]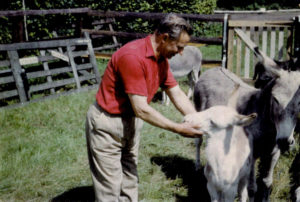 [/tie_slide] [/tie_slideshow]
On one occasion she took a horse into Priory Park, sitting there while the animal grazed. People passed by without an inkling of the VIP they were just feet from! Jack received a card
each Christmas from his royal patron which he would proudly frame and keep on his desk.
He was a veritable Francis of Assisi – as well as horses, there were donkeys, cats, cattle, pigs, pheasants, hens, quails and canaries. A pigeon called Charlie was a regular visitor as was Jimmy the Squirrel. Jack's cottage by the Pineapple Pillars leading into Priory Park was a hive of activity. His secretary, Kathleen Wells ran the household like a well-oiled machine, doing anything and everything – cooking, salaries, race admin, preserve making; and each year she wrote Christmas cards for his friends and racing contacts – hundreds of them! The living room was bursting with trophies, pride of place being given to the 1951 Grand National Trophy won by Nickle Coin. Jack was a keen gardener and combined his two passions when he clipped a privet hedge into the shape of a horse! One year, determined to grow a prize pumpkin, he fertilised them with contraceptive pills with remarkable success.
Sadly, after Jack's retirement in 1996, the stables were entirely neglected. All that is now left are ramshackle ruins, and thick brambles roam where once horses did. For years local residents have tried without success to discover what plans Surrey County Council has for this plot. Maybe some royal intervention might help. Now there's a thought….
*The British Horse Society – www.bhs.org.uk