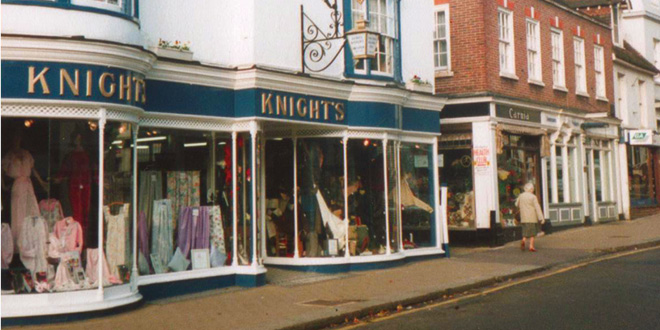 It's been two months since Knights Department Store closed its doors for the very last time at the end of January, and now the blank white-washed windows facing out towards Bell Street are a sad and poignant memorial to this once proud and esteemed store. There is little left to show for its 132 years of valued trading in Reigate, but the mention of Knights to any local will raise a wry smile, an expression of regret, and a quip about some fond memory conjured up.
Anne, a regular customer years ago, remembers popping in during breaks from her work at a local estate agent. She particularly recalls the unsophisticated window displays but as she says,
'It was all part of Knights' special charm'.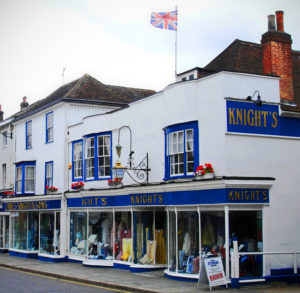 Staff members remember the happy working atmosphere that the Knight family fostered amongst their employees. One lady, Angie, was shown the ropes by the 'lovely' Mrs Knight; another, Betty, confesses to breaking an upstairs window during a game of hide and seek with colleagues but David Knight just said, 'That's okay, don't let it happen again'. Knights may not have been Harrods, but it's difficult to imagine Mohamed Al-Fayed being so forgiving!
Established in 1883 by the Knight family it was extended over the years and in 1911 they acquired the neighbouring Grapes Hotel. It remained in the family until Tudor Williams bought the site
nine years ago but it never regained that certain something that made it so special. I wonder if Saint Mary of Portas could have helped turned the tide?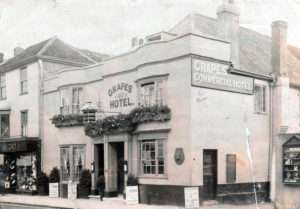 I visited the store on the very last day of trading when sale prices were slashed even further, but instead of searching out a bargain my eye was drawn to building interior itself, to the remaining original features – the impressive staircase and Edwardian mouldings and pillars. Although partially hidden by modern fixtures and fittings it wasn't hard to imagine how it had looked over the past century of business when trade was booming, and residents of Reigate relied on Knights for their necessities, and Amazon was just a place in South America.
A department store can play a pivotal role in defining a town's identity: Harrods /Knightsbridge, Bentalls/Kingston, Barkers/Kensington. Their alliance benefits both. When Pratts, John Lewis's branch in Streatham closed in 1990, the town itself seemed to diminish, and it has never regained that 'je ne sais quoi' of old. So what for Reigate now that Knights is no more? Thankfully, there have been reasonable assurances by new owners St Dominic Properties (part of the EPF Group) that this lovely listed building will be sympathetically repurposed. That's all very well of course, but where will we ladies-of-a-certain-age buy our Sloggis now?
By Sarah Ballingal