Mid Sussex's very own Jurassic World
Cuckfield Dinosaurs in conversation with Rebecca Skiming of Cuckfield Museum
In a time long, long-ago dinosaurs ruled the world… If the beasts of the Jurassic period fascinate you or someone you know then you needn't look too far. In fact, Cuckfield is considered by pre-historic experts to be one of the pre-eminent sites in the world for early dinosaur discoveries.
To get a better understanding of Mid Sussex's very own Jurassic World I spoke with Rebecca Skiming of Cuckfield Museum. Now, there's no fear that Cuckfield will face the fate of the Jurassic World resort in last summer's blockbuster but big beasts did once rule the roast in these parts.
During the 19th century Cuckfield was home to a number of stone quarries, the largest being at Whitemans Green. The yellow-brown sandstone which was being quarried (known as Cuckfield stone in honour of its hometown) contained many fossils including turtles, crocodiles and dinosaurs.
Megalosaurus, iguanodon and hylaeosaurus reptile fossils were among those found in the local quarries and can be seen at Cuckfield Museum, currently on-loan from the Booth Museum in Brighton. But Cuckfield fossil examples have gone global – exhibited in both the US and New Zealand.
Rebecca said: "Many famous 19th century geologists and biologists including William Buckland, Gideon Mantell and Richard Owen studied fossils from this area during the early stages of palaeontological science. Research on Cuckfield fossils continues today."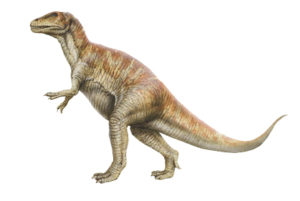 "The Megalosaurus, a carnivorous dinosaur from the Middle Jurassic period was the first dinosaur to be scientifically described in a paper in 1824 by William Buckland. Fossils of megalosaurus found at Cuckfield include teeth, ribs, vertebrae and pieces of femur" Rebecca added.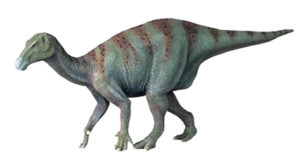 In 1825, a description of a second dinosaur was announced by Gideon Mantell, named iguanodon it was the first herbivorous dinosaur to be found. Teeth, jaw, vertebrae, rib, femur and toe bone fossils of iguanodon have been unearthed in and around the town of Cuckfield.
Gideon Mantell went onto describe the third dinosaur to be found in Cuckfield – the hylaeosaurus, a herbivorous. Fossils of hylaeosaurus found at Cuckfield include a large block containing ten vertebrae, ribs, shoulder blades and spines – some of which can be seen at the museum.
Rebecca said: "Cuckfield has a key place in history – in an 1841 paper, Richard Owen invented the word dinosaur to describe the large fossil reptiles that were being found in Britain at that time. He studied fossils including those found in Cuckfield and started to classify them."
Rebecca Skiming is a curator at Cuckfield Museum, Queens Hall, High Street, Cuckfield, West Sussex, RH17 5EL. The museum is open Wednesdays 10am – 12.30pm, Fridays and Saturdays 10am – 4pm, or by appointment.
You can contact the museum by calling 01444 473630 email info@cuckfieldmuseum.org or visit www.cuckfieldmuseum.org. The museum also has a number of loan boxes available for schools.
By Jacob White