Mid Sussex Friends of the Earth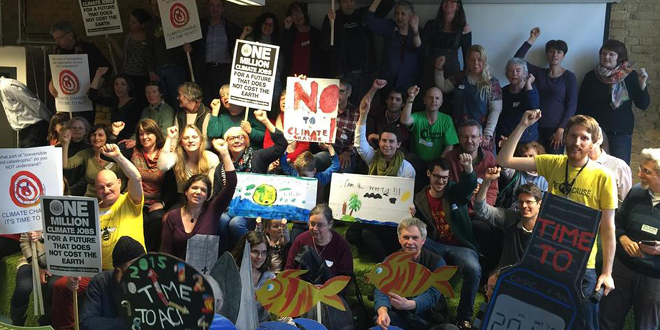 With a global-reach Friends of the Earth is a network of environmental organisations in more than 75 countries with a network of more than 200 local groups and Mid Sussex plays its own part in this internationalist organisation.
Mid Sussex Friends of the Earth was reformed in 2013, inspired according to member Rachel McNamara by the need for action against the proposed onshore oil and gas drilling in the Weald of Sussex.
Rachel says that the inspiration for national campaigns is the understanding that the wellbeing of people and the planet go hand in hand, and that the Earth is our home so wrecking it does not make sense.
"The Mid Sussex group have been busy campaigning since our reformation in 2013. We have actively campaigned against fracking, or onshore oil and gas exploration and this is an on-going issue here in the Weald as much of the area is covered by drilling licenses.'
This allows companies to apply for permission to extract fossil fuels from the Earth using various methods; these methods may include fracking. We believe that fossil fuels should stay in the ground, and that renewable energy is the way forward" Rachel said.
The group likes to be accessible to communities across the RH16 and RH17 postcodes, running stalls at fairs and fetes across Mid Sussex, speaking to people about what they can do to help and she hopes to up the ante in 2016.
"Sussex is facing environmental challenges such as the new runway proposal at Gatwick, increased building on greenfield sites, loss of biodiversity/habitats and our group seeks to look at these problems and see what we can do to help resolve them.'
"People can also speak to us at fetes and events; we were at the Haywards Heath Spring Festival in April on Muster Green and will be at the South of England show this year as well as other local events. Pop along and talk to us or even better join our group and help out!"
The group meets on the last Tuesday of the month (dates do occasionally vary – please check with the group) meeting in Haywards Heath. Across the year, the group joins regional and national group gatherings to network, learn new things, discuss campaigns and ideas.
For more information about the Mid Sussex Friends of the Earth you can contact, Rachel McNamara on (01444) 891533, by email – midsussexnature@live.co.uk or visit the group's website – www.foe.co.uk/midsussex or Facebook page – www.facebook.com/midsussexfoe.
[box type="shadow" align="" class="" width="800″]
Want to be part of a future spotlight?
If your group or organisation is in the RH16 or RH17 postcode area, let me know, and you could feature in a future edition of RH Uncovered!
Email me: featuresdesk@mantramagazines.co.uk and put RH16 & RH17 Uncovered Spotlight in the email subject[/box]