Hospice Care Week 2015 – Connecting Care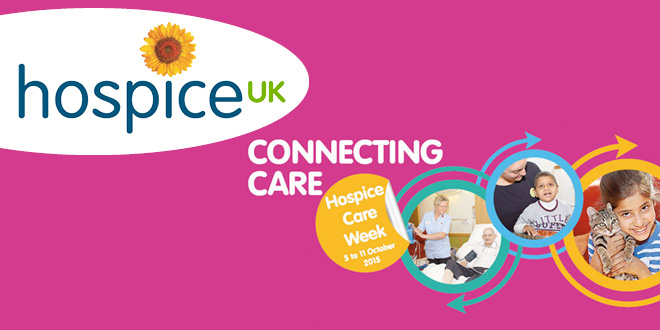 St Peter & St James Hospice will be adding its voice to more than 100 other hospices across the UK to explore the theme of Connecting Care for Hospice Care Week 2015 (5-11 October).
The aim is simple. Hospices offer amazing support both in and outside of hospice buildings and St Peter & St James wants to raise awareness of all aspects of hospice care to as many people as possible. Hospice Care Week provides the perfect opportunity to do this with World Hospice Day and Palliative Care Day taking place on Saturday 10 October.
Along with other hospices in Sussex, members of staff from St Peter & St James will be on BBC Radio Sussex – 95.3 FM throughout the week, at 5.40pm, talking about what services they provide and how hospices connect the care. On Wednesday, a Clinical Nurse Specialist from the hospice will be talking about going above and beyond with the care provided. With 90% of St Peter & St James' care taking place in the community, everyone at the Hospice would like more people to know about how they can help people and to invite patients to use the new Beacon View Wellbeing Centre.
Michelle Miles, Clinical Nurse Specialist, at St Peter & St James, said, "I'm pleased to have the opportunity of being on the radio to reach so many people. During the programme, I'll be talking about hospice care and how small things can really make a difference. With this year's theme for Hospice Care Week being about connecting care, it's the perfect opportunity for us to reach out to all our community, so making more people aware of the excellent level of care we provide."
People who do not know a lot about hospice care may be surprised that so much of it takes place in patient's homes, or that many people are discharged from hospices after short stays so that they can live at home with support from hospice teams. Even fewer people may know about hospice
staff and volunteers going the extra mile to add life to days, the range of therapies that enrich the lives of people receiving end of life care, or the important role that hospices play in supporting and educating staff and volunteers in other settings beyond hospices, including care homes and hospitals.
Everyone at St Peter & St James Hospice would like to thank the community for taking part in the awareness week and for their generosity. Over 86% of funding comes from the community and the Hospice is always grateful for support from individuals and businesses.
To learn more about Hospice Care Week, visit www.hospicecareweek.org.